Poland 2018 - Explorer Belt....

The Explorer Belt contingent to Poland in 2018 has met for our second and third training events.

Triathlon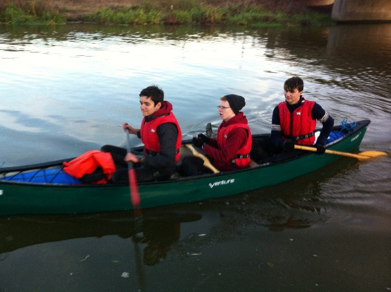 The second training event we held was a Triathlon held at Mildenhall Scout HQ during November.
Friday evening, Sarah Adams spoke with all of them about preparing a balanced meal and then sent them off to buy their own food for the weekend. The food had to be able to be cooked on a trangia. One group even bought steak! What a luxury!
It was quite chilly start on Saturday morning. The Saturday consisted of 3 groups canoeing, cycling and hiking from Mildenhall HQ to a village called Prickwillow.
All 3 groups did really well, despite the first cycling team getting a bit lost and went most of the way to the second checkpoint without swapping over to hike there instead.
The evening consisted of some more "getting to know you" games and the groups preparing a presentation about facts on Poland. They were given various printed resources and some sugar paper and had to prepare a 5-minute presentation. All of the groups did very well


London Monopoly Run
Our third training event, held in the February half term was our own version of the London Monopoly run. The purpose of this event was to get the participants used to travelling on public transport and being able to check timetables to make sure they won't be late. During their run, each group had a project that they needed to complete that they would present to the rest of us on Sunday morning.
We split the teams into 3 groups and they had until 6pm to get round as much of the Monopoly board as possible, taking a photo at the street sign for every place. Each time they got to a Chance or Community Chest, they had to phone us for a question or challenge.
Our most notable challenge we set them was to get a member of the public to sing an Abba song with them and record it. All 3 groups did really well: one group got a lovely old couple to sing with them, another group asked a young couple and they looked terrified and the final group got a professional busker to sing.
The leaders ourselves were busy going across London getting to various places. Unfortunately they let me navigate so we ended up going through Euston station numerous times (especially within the first couple of hours!)
We stayed at the 1st North Watford Scout HQ, a very lovely building that is many years old. If you ever need to stay near London, we can't recommend it enough.
We celebrated Jake Dixon's birthday on the Saturday and cake was had by all. As we returned to the HQ quite late, we had a Chinese takeaway.
Sunday morning, we had presentations from each group about their projects. It was lovely to see the confidence building as they get used to presenting in front of each other.
The next time we meet will now be at the Moot in August and I can say on behalf of the Poland team - we can't wait!
Alfie Green
County Scouter, Explorer Belt Leader