COVID-19 News Bulletin #21 - 3rd March 2021
Dear Suffolk Scouters,
I hope you have been able to enjoy the recent brief taste of Spring that has been present over the last week or so. With the vaccine roll-out progressing well and the end of lockdown potentially in sight, we can look forward to better times.
The news that we can return to limited face to face scouting from the end of this month is something we have all been looking forward to. Remember, if you already have an approved Amber Risk Assessment in place, and you are not making any substantial changes, you only need to review the risk assessment and inform your DC that you intend to restart.
If you still need to prepare your risk assessments, do remember that there will be other leaders in your district who will be happy to support you. Please remember if you have any outstanding mandatory training to undertake, this must be completed before you restart. Read more about the return to scouting here.
Scouting Success During Lockdown
5th Beccles Scout Group experienced a crisis in leadership during the first lockdown, and as a group was in a perilous situation. The GSL and a small team of leaders and helpers managed to revive the fortunes of the group and go on to deliver a quality virtual programme. They were supported in this transition by the Regional Growth and Development Officer and some key volunteers from both the District and the County teams. Triumph from adversity – well done 5th Beccles.
Shout out about your news
The last year has been very challenging for group finances and many groups have lost some of their usual sources of funding. Rendlesham Scouts have produced an interesting news piece about their fundraising efforts for a local news magazine. Scouting activities are interesting to local news publications, particularly if you have a story to tell and can include a few photos. Hopefully Rendlesham Scout Group will get the publicity they need to raise much needed funds.
An Introduction from the ACC Inclusion
My name is Anne Humphrys and I am the new Assistant County Commissioner (Inclusion). I know that many of you across the country have been doing some fantastic work during the pandemic making your programme accessible and inclusive. If any of you would like to get in touch to discuss inclusion, my contact details are below.
Below is a link to an important survey from Megan, who is running a Scouts of the World project on LGBTQ+. Please can I encourage all of you to complete this, as we will have the opportunity to work with Megan and, hopefully, directly benefit from the resources she is developing to support inclusion and raise awareness of LGBTQ+. Your views are valuable! You can access the survey here.
COVID-19 News Bulletin #20 - 15th February 2021
Dear Suffolk Scouters,
Hope that you have been able to get out and enjoy the recent Winter Wonderland. Vaccines seem to be rolling out well, and the awful levels of Covid 19 illness receding. Let's hope, that together with a promised change in the weather to something more Spring like, Scouting can look forward to a return to face-to-face meetings in the near future. In the meantime, Scouters from across the Eastern Region are busy working on a new programme hub. It will share programmes and activities that have proved successful and popular at Colonies, Packs, Troops and Units from across the East. You'll be hearing more about this great resource very soon.
Census and hardship funding
Census deadlines are approaching fast, and the County deadline for submitting returns was Sunday 14th February. Submissions are needed earlier this year, as HQ need to process requests to the Recovery Fund. Please make your DC aware if you are in need of hardship funding to keep your Group/Unit running. A County Hardship Fund is available, and you can get more details from your DC about how this could help your Group/Unit.
Deputy County Commissioner – Programme
I am very pleased to announce that, following a successful time as Suffolk's first County Youth Commissioner and latterly heading up the County's Programme team with successful initiatives such as the #AdventureContinues Programme, Ollie Smith has now been appointed Deputy County Commissioner for Programme. Please join me in congratulating Ollie. Ollie is committed to improving the access to programme ideas, and will be focusing on ways to support district teams and leaders to run programmes that lead to top awards. You will be hearing more about a new digital programme hub very soon.
Further Government Funding – Don't Miss Out (Updated)
Sounding a little like movie sequels, the recent Tier 2, Tier 4 and Lockdown 3 periods have all attracted local government restriction grants, totalling almost £8,000 for groups with their own HQ, who have a rateable value to their premises, even if you don't pay business rates.
For those without your own HQ, who rent a village hall or something similar, or a Unit renting from a Scout Group for example, there is the opportunity to get funding from the Youth Covid-19 Support Fund, which has a £16.5m funding pot.
You can apply here - DCMS Youth Covid-19 Support Fund Applicant Portal (pwc.com), deadline is now 19 February 2021 (changed from 12th Feb 29/01/21) If you receive money from this source, it can be used towards paying membership (capitation) fees. Your District Commissioner, Deputies and District Treasurer have more details and will be happy to assist you.
COVID-19 News Bulletin #19 - 27th January 2021
Hi Scouters and Executives,
New Opportunities From Covid
Although we may not have had too much to smile about over the last 10 months, since the first lockdown, there have been some good things that have resulted. One of these is the joining of forces by the counties of the Eastern Region (Beds, Cambs, Essex, Herts, Norfolk and Suffolk). Work is underway on programme initiatives and adult recruitment publicity and support. Watch this space for updates soon! Another benefit will be shared activities, more details below about The Big Weekend, an event for all Suffolk Scout Volunteers.
The Big Weekend!
Our Scouting friends in Norfolk would like to invite us to take part in 'The Big Weekend' which is happening on-line over the weekend of 27 & 28 February 2021.
What you need to know:
It is initially opening 100 spaces on a first-come-first-served. Places can be booked here: Registration Form. Please book by 8 February 2021.
The cost is £10 per household (although each adult volunteer in the household needs to register). Everyone will be posted an event pack a couple of weeks prior to the event.
The weekend offers a number of formal adult learning sessions, ongoing learning opportunities, an incredible wealth of programme ideas, useful speakers and presentations; and social opportunities.
After initial booking, participants will be contacted to select which sessions they would like to attend. Zoom details etc will be emailed just prior to the event.
Overview is available as a PDF here: Schedule.pdf
News Update - Jan 2021
Best wishes for the New Year and let us hope that the roll out of the vaccine will enable us to be doing face to face Scouting sooner rather than later. With almost half of sections in Suffolk with an approved Covid Risk Assessment in place and 96% of all adult volunteers (leaders and Executives) with their mandatory training (GDPR, Safety and Safeguarding) in place, Suffolk is in a great place for getting started. Well done everyone.
I am pleased to be announcing some changes to County and District Roles.
County Youth Commissioner
I am very pleased to announce our new County Youth Commissioner, Caitlin Rawlinson. Caitlin start her first adult leader role in Scouts as a Section Assistant at 3rd Sudbury before taking on a Group Section Assistant - Scouts role in Liverpool whilst away at University. However, Caitlin has been in Scouting now for 11 years having started as a Cub. Please welcome her to the her new role, I know she is excited to be in the role and ready to lead the voice of youth with the adult volunteers to create some great experiences for young people. She is keen to get to meet you, virtually and face to face. Please congratulate her on her new role. This email address is being protected from spambots. You need JavaScript enabled to view it..
I would like to thank Ollie Smith for his tireless energy and really putting a stamp on the role for Suffolk as its first CYC. Watch this space for future news regarding Ollie.
Here's a video message from Caitlin and Ollie https://youtu.be/oO0czwRl4CE
District Commissioner – Deben
I would like to thank Julie Lovett who after 5 years at the helm of Deben is stepping down as her term comes to an end. Julie has grown the youth membership by over 7% and adult leaders by almost 10% during her time in her role. The District is also in good shape with regards to its mandatory training with over 95% of adult volunteers having their safety, safeguarding and GDPR training up to date. It has been a pleasure to work with Julie during the time that I have been County Commissioner, including the excellent morning drop ins that she ran in the District. The District has been left in good shape. A search committee is being drawn up for a DC replacement and two deputies, a model which has been used to great effect across the rest of the County.
In the interim Gary Burden has agreed to step into the role of Acting District Commissioner with immediate effect. Gary will continue as County Safety Officer.
Suffolk Cubs Virtual Carol Service
The virtual carol service is now live!
Jo Cracknell, ACC Cub Scouts introduces the virtual carol service that her team of leaders, parents and cubs have assembled.
It is now live on YouTube and can be found on the link below. Click on the 'YouTube' link in the botton right to open on a bigger screen.
Many thanks to all those involved!
COVID-19 News Bulletin #18 - 14th December 2020
Whilst we still have a long way to go before we can fully return to all of the Scouting activities we are used to, there does seem to be a light at the end of the tunnel. The start of the vaccination programme gives us hope for a better year in 2021. Many of us will have been meeting again since coming out of lockdown at the beginning of the month and hopefully we will be able to continue to do this in the New Year.
Support for Specialist Activity Risk Assessments
A reminder that there are specialist activity teams in the County who can support you with activity risk assessments, should the need arise. Those of you with adventurous activity scheme permits will have demonstrated, as part of your permit assessment, the ability to appropriately risk assess the activity- both in the planning stages and dynamically during an activity session. However, if you want to discuss your risk assessment with another activity specialist and you do not have your own contacts, please contact Leigh Foster-Green (This email address is being protected from spambots. You need JavaScript enabled to view it.) who will put you in touch with someone who you can talk to.
Race Round the World
Well done to all the groups who took part in Race Round the World, raising funds for the groups hardest hit and at risk of closure by the Covid crisis. Cubs won the race by raising over £67,000. In total over £200,000 was raised.
Lowestoft Scout Raises Funds for Children in Hospital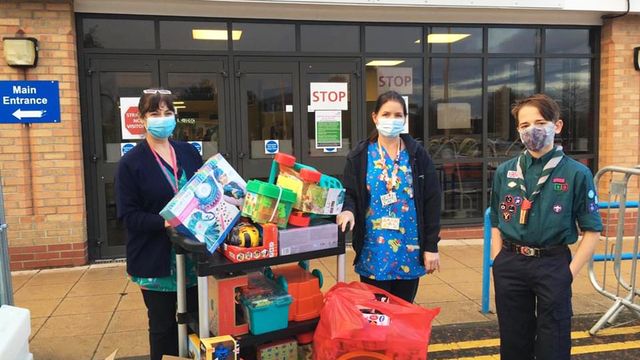 Oscar Cone in Lowestoft raised over £400 to help children who are in hospital over Christmas. This is a fantastic effort and a great example of the true spirit of Scouting.
He went on a spending spree and purchased 60 toys for the children's ward of the James Paget Hospital. Read more about this as reported in the Lowestoft Journal here. (Picture credit - Emma Cone)