Suffolk Show 2019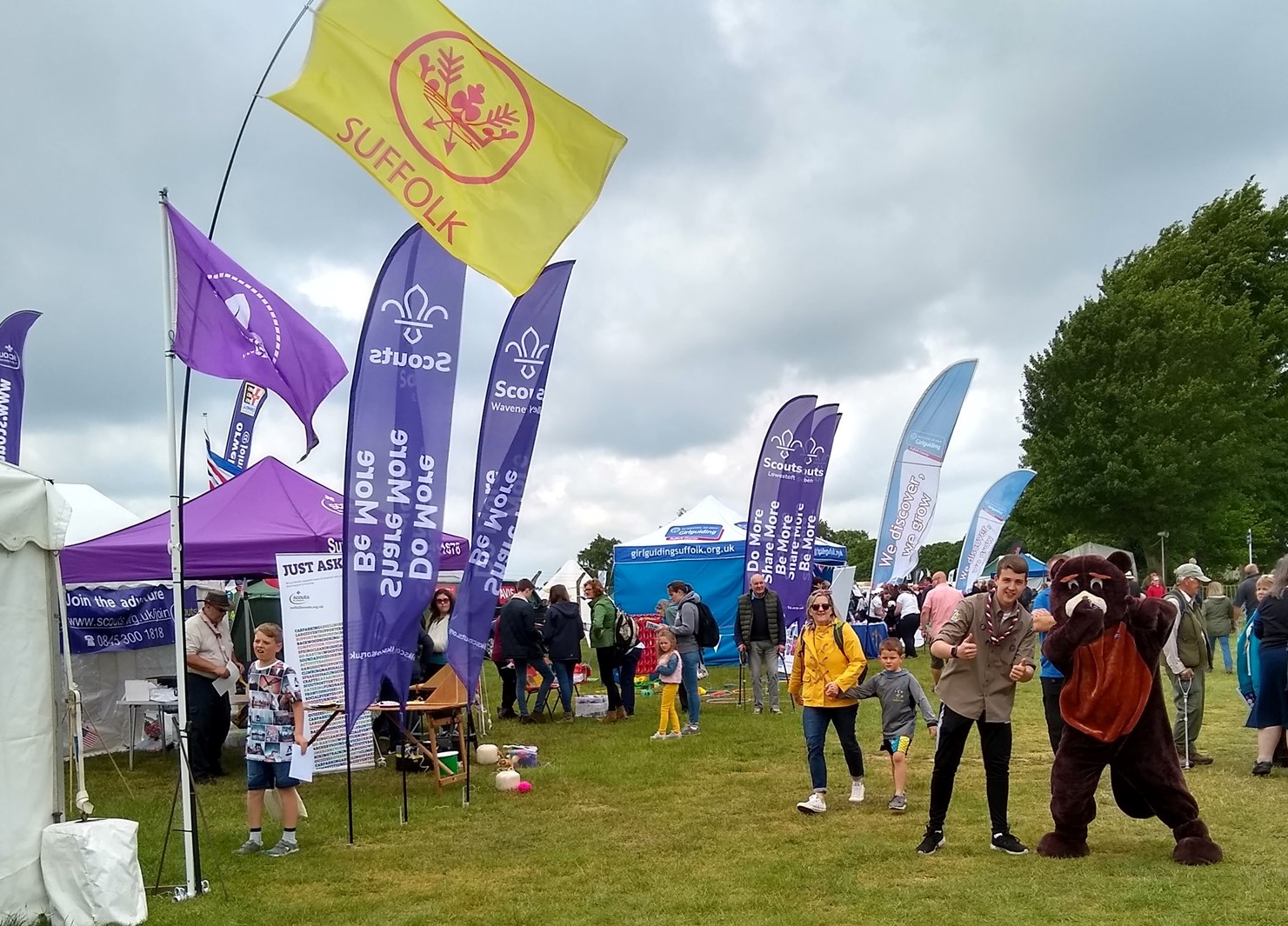 Mr Beaver is enjoying the good weather this year at the Suffolk show. He managed a very creditable 5th place after the qualifying heats in the final Mascots race this year! Thanks to the team from Orwell District for this year's stand.
(photo Keith Gleen)
National Success for Deben Archers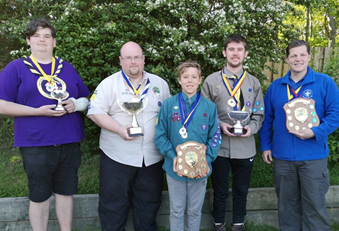 Deben District Archery Team enjoyed a successful weekend at the National Scout Archery Competition

Between them, they achieved 13 medals!
Including a Bronze medal in the Teams Head to Head Finals!
Above are our 5 National Champions, who won …
Ryan – Under 18 Target Own Equipment
Stuart – Adult Target
Finley – Under 14 Field
Will – Under 18 Target Supplied Equipment
Ian – Adult Field
Offshore Sailing Weekends 2019
Suffolk Scouts Offshore Sailing Weekends 2019
12-14 July  13-15 Sept 
Any Scout, Explorer, Network member or Leader, male or female, can apply. Under 14s preferably accompanied by an adult, but do talk with us if you have keen Scouts without available leaders
An adventurous weekend with other Scouts sailing a gorgeous Oyster 49' yacht -
Starts & ends in Ipswich docks
Fri evening to Sun late afternoon
Sail the East Coast & Rivers
£100 per person (reduced charge after generous sail-training subsidy)
Includes food & wet weather gear
No experience necessary

See attached flyer for more information
Archery Permit Courses & Assessments
Please see below booking links for archery permit and assessment courses.

Please read the registration instructions carefully when you click on the link.
15th & 16th June- Mildenhall Scout HQ (Bookings Closed)
https://www.eventbrite.com/e/archery-permit-training-and-as…
27th & 28th July- Mildenhall Scout HQ (FULLY BOOKED)
https://www.eventbrite.com/e/archery-permit-training-and-as…
3rd & 4th August- Leiston Scout HQ (1 space left)
https://www.eventbrite.com/e/archery-permit-training-and-as…
10th & 11th August- Boxford Spinning campsite, Boxford, Sudbury (now FULLY BOOKED)
https://www.eventbrite.com/e/archery-permit-training-and-as…
Hurry whilst places last (bookings updated 09-June)


County Commissioner for Suffolk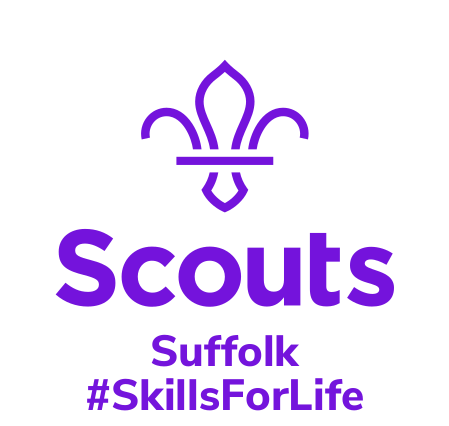 Suffolk Scouts are looking for a volunteer with management experience who can make a positive impact within the community.
Key attributes needed include good interpersonal skills and the ability to matrix manage, motivate and inspire others. The successful applicant will lead the County team, supporting 8,500 Suffolk Scouts.
The successful candidate will be responsible for taking Suffolk Scouts forward as a growing organisation relevant to young people and adults alike. Our current youth membership in the County is over 6,000 young people, supported by 2,500 adults.
How to apply

CMAT Programme 2019-20
The County Mountain Activities Team (CMAT) have published their activities for 2019-20 - now available at their
CMAT Activities
page.
St George's Day Awards 2019
Congratulations to the following for their recognition to services to Scouting in the St George's Day awards this year :-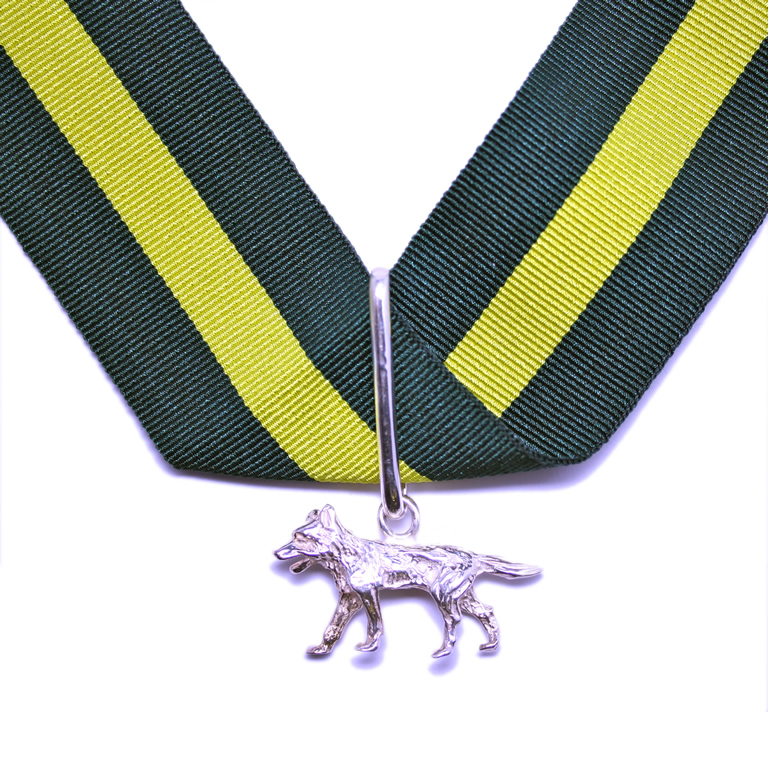 Silver Wolf
Jenny Mullan, MBE
District Deputy Commissioner, Sudbury, County Trainer, County Training Adviser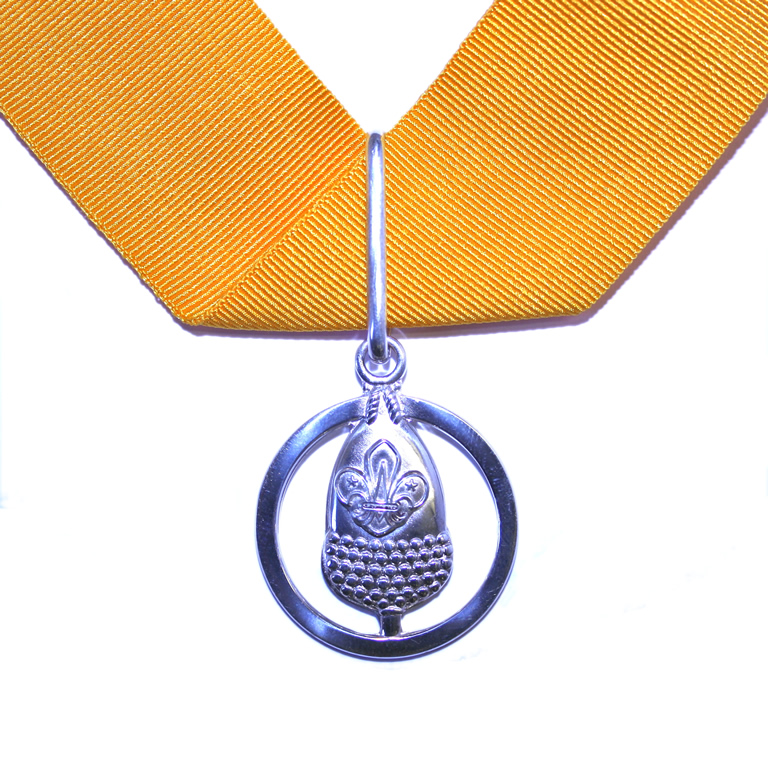 Silver Acorn
Brian Everett
District Scout Active Support Member, District Chairman, Lowestoft
Paula Hollings
District Deputy Commissioner, Stowmarket
Ruth Nunn
Group Scout Leader, 1st Ixworth, District Scout Active Support Member, Bury St Edmunds, County Training Adviser