Welcome!
Welcome to the online home of Scouting in Suffolk. We'll aim to bring you all the latest news and resources we can to help you in the day to day fun, challenges and adventures in Scouting, regardless if you're a parent, young person or leader!
We hope you find this website useful and if there's something you would like to see, something we have spelled wrongly or you just want to let us know about something, then please get in touch via the "Contact Us" links!
Jenny's Journal - June 2012 - part 2
It's been a busy week. Monday evening I popped in to the CMAT meeting at Hallowtree. This group of Leaders are fantastic, planning climbing and walking trips for young people in the County. Tuesday was Deben District AGM , yet more fantastic Leaders who work tirelessly to give the youngsters in their sections a fun and challenging time. Wednesday was the County Appointments Advisory Panel at Hallowtree and I am so pleased to report that Brian Harvey is the new ACC Beaver Scouts. I know that he will do a super job.
Jenny's Journal - June 2012
I can't believe that it has been two weeks since the Jubilee celebrations... had a fantastic time and I hope you did too. I have had a busy time, mostly with meetings, but I did drop into Boxford for the 3rd Sudbury centenary celebration.
Everybody had had a super time with all the bases. At the end of the day at the AGM I was pleased to present Bill Hotchkiss with his Silver Acorn. Bill is an old time Scouter who has supported not only 3rd Sudbury but the whole District over many years. He can always be called upon for advice.
Expect More......
The HQ team have certainly hit a creative streak with the video on this site - www.expectmore.org.uk. Definitely worth having a look at it and then sending on & around.
If you happen to be an adult with time to spare to help with running a group, get in touch with us - Contact Us . One group in particular in Woodbridge is looking for leaders for their teams of Scouts.. so if you can.. Join In !
Suffolk Show 2012 - 1-day only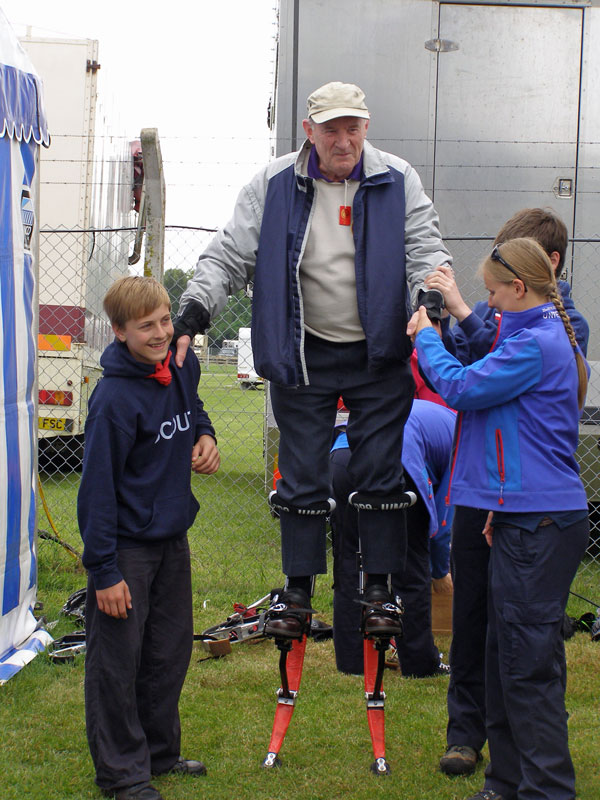 The Scouting prescence at this year's Suffolk show on the 7th & 8th June was made by the Orwell District.
It was a wet and windy affair this year and eventually, the 2nd day was cancelled due to Health and Safety fears for the public attending the event.
The Scouts put on a good show for the visitors and encouraged them to have a go at some of their activities as you can see in the photo where one of the Show Members was trying out some modern stilts - perhaps he knew more rain was on the way!
More photos from the event are in the Photos link (top menu bar) and in the Suffolk Show Gallery.
Jubilee Beacons.. and more!
There were a number of Jubilee Beacons lit by Scouts in Suffolk. One in particular hit the news in Lowestoft and had a report on Anglia TV.. see anyone you recognise?