Welcome!
Welcome to the online home of Scouting in Suffolk. We'll aim to bring you all the latest news and resources we can to help you in the day to day fun, challenges and adventures in Scouting, regardless if you're a parent, young person or leader!
We hope you find this website useful and if there's something you would like to see, something we have spelled wrongly or you just want to let us know about something, then please get in touch via the "Contact Us" links!
Aerial Runway Refresher Day
D
uring a Summer Camp last year there was an accident involving an aerial runway. With this in mind, the County are holding a refresher day on March 12th at Hallowtree.

We would like all Leaders who build aerial runways to come along and be reminded of all aspects aspects of runway construction including safety and suitability of equipment used.
Please contact

This email address is being protected from spambots. You need JavaScript enabled to view it.

to book a place
.
#Youshape Month
#Youshape Month

February is #Youshape month, where all these youth shaped activities are being celebrated across Suffolk and the rest of the UK.
Our Youth Commissioners, Ollie and Beth, have been busy visiting groups, to catch up with leaders and young people and have been amazed by some of the awesome activities and ideas they have seen.
To celebrate #Youshape Month, below you will find a series of links to activity ideas which may be of use to you and your sections. We hope you enjoy them!
Jenny's Journal Jan-17
A very Happy New Year to you all! I hope you had a super Christmas. It has been a quiet couple of months for me comparatively speaking!
The African Expedition Camp was a joy to visit, the excitement is really building up now. Thank you, Paddy, for the gift you gave me. I'll treasure it always.
The Stowmarket Show was excellent, the youngsters were quite amazing. Thank you, Clare Beavers, for your gift and card. It has pride of place on my window sill.
All the Carol services this year were just wonderful, the Orwell service with the Salvation Army is always a highlight. A special thanks to Stowmarket for letting the service be hijacked for my farewell. I felt very humbled by the gifts from the County. I shall use the gardening vouchers to buy something special as a lasting memory of my time as County Commissioner. The beautiful vase will hold all the flowers I'll be growing! The Jamboree board just blew me away. Thank you so much to all the Contingent for their thoughtfulness.
Happy Christmas 2016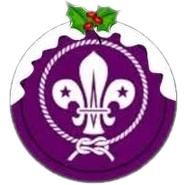 Wishing everyone in Suffolk a very
Happy Christmas
and a very Happy and Successful New Year in 2017!
A quick reminder about any articles you may like to submit for the County News for Jan/Feb 2017... thanks in advance !
Tall Ships Race 2017 - an opportunity
In 2017 the Tall Ships Race is taking place in the Baltic Sea. This renowned International Youth Event will see thousands of young people from across the globe taking part in an iconic sailing adventure. Dozens of Sail Training vessels ranging from massive 4-masted square-riggers down to 10m sloops will be taking part.

Suffolk Scouts have booked all the berths on the Adventures Offshore sail training yacht 'Ocean Scout' and will be taking part in the race sailing from Turku in Finland on the eastern side of the Baltic Sea to Klaipeda in Poland. This is a great opportunity to take part in one of the world's leading youth sailing events.