Welcome!
Welcome to the online home of Scouting in Suffolk. We'll aim to bring you all the latest news and resources we can to help you in the day to day fun, challenges and adventures in Scouting, regardless if you're a parent, young person or leader!
We hope you find this website useful and if there's something you would like to see, something we have spelled wrongly or you just want to let us know about something, then please get in touch via the "Contact Us" links!
Suffolk Scouts Summer Sail 2018
Suffolk Scouts are organising a Summer Sailing Cruise in Aug 2018 on one of the Adventures Offshore sail training yachts.
We will be taking part in the ASTO Small Ships Race on the UK East Coast, sailing from Ipswich to Gosport, with races and shore based fun events on the way.
Applications for berths from Scouts (aged over 15 on 17th Aug '18 ), Explorers, Network & Leaders, male or female, are welcomed.
More information on the attached flyer or from
This email address is being protected from spambots. You need JavaScript enabled to view it.
– click on link to open mail.
The Ringtail Review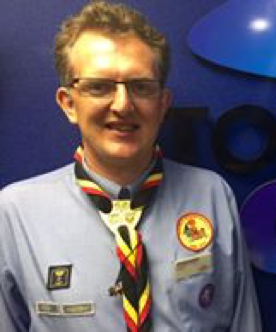 Beavers/Cubs - November Update

Autumn days when the grass is jewelled and the dark nights start drawing in – BUT worry not youngsters from the Beaver and Cub sections are busy as usual and not letting the cooler dark nights stop them.
It maybe dark outside but I'm looking ahead to a bright future Together: as one we can focus on giving the young people of Suffolk more opportunities to gain more badges and gaining greater experiences and memories for all.
Thank you to all those who attended my meeting at the Guiding centre Stoke Ash, it was fantastic to put names to faces and putting our steps on the yellow brick road. This is a great adventure and I'm looking forward to moving in a new direction with you all.
The international fund and working with Mafeking is a great opportunity to show our fellow scouters how superb Suffolk is and I am sure we can support them.
County Programme 2017/18
Please find below a link for the Suffolk County Programme for 2017/2018 as a PDF document.

Please remember that items may be amended or new ones added to this; any updates will be notified via the Calendar on this website.


Commissioner's Corner - 'Sup Suffolk - Nov-17
Hello Suffolk! Well, the clocks have gone back, the pumpkins have been carved and the autumn evenings are creeping into winter. As November greets us, our young people are of course getting excited about Bonfire night. This fabulous time of year gives us as scout leaders so many opportunities to teach our young members about personal safety and measured risk. This link from the Scout Association offers a fabulous programme opportunity about how to stay safe during this special time of year
Fire Safety Badge Support.
I know that there will be many fabulous bonfire nights taking place around Suffolk Scouting venues. I hope you all have a safe yet wonderful evening of colour, fun and excitement.
The autumn term has been very busy for Suffolk and many fabulous programme activities have taken place. The Explorer Belt 2018 team undertook a practice expedition, in preparation for their adventure to Poland and the South Africa Explorer Belt contingent presented their journey to an audience of parents and an assessing panel. It was so wonderful having the opportunity to listen to their independent adventures and how it has moulded them as young people.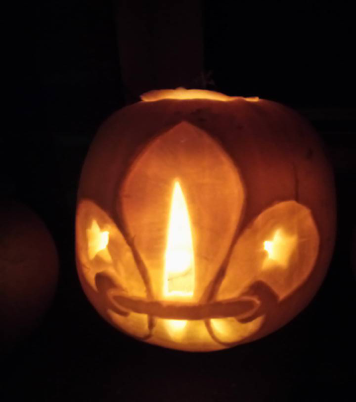 Bury St Edmunds and Stowmarket Cubs had a visit to Legoland Windsor for an autumn treat, whilst 1
st
Honington (RAF) took part in a Halloween themed evening, in which the Cubs enjoyed apple bobbing and took part in a pumpkin carving competition. There were some truly awesome designs, but I particularly liked this one by Judy Brooks.
County News Nov-Dec now available
County News for Nov-Dec 2017 is now available on the website for registered users via the "User Menu" and "County News" link.
If you don't have an account, please request one using the link in the "My Account" area and respond to the follow-up e-mail (check spam/junk mailboxes).
If you have log-in issues, please contact us using the Helpdesk system
We welcome any Scouting stories and can polish up the words if you give us the basic facts...
....we like pictures too BUT please could you send any pictures as JPEG files rather than embedding them in Word documents as it saves a lot of time and will result in a better quality image appearing in the final copy!
The next copy of County News is Jan-Feb 2018. Copy is required by 29th Dec 2017.
Send everything to the new

This email address is being protected from spambots. You need JavaScript enabled to view it.

mailbox (click on the link to open your e-mail program
CN Archive: Earlier editions and specials are available from the County News Archive link.
Ardeche Adventure 2020
The CMAT and Water Activities team have combined forces to come up with another expedition, this time to the Ardeche in southern France. The flyer below has some details and a link/password to register your interest.
A previous expedition report is available to registered users
here
.
CMAT - Scotland - Aug 2019
The CMAT team have announced that the planned Scotland expedition to take place in Aug-2019 is now LIVE.
For more information, please go to the
CMAT Activities
page where you will find more information on how to register and an outline plan.