Hello Suffolk! Well, the clocks have gone back, the pumpkins have been carved and the autumn evenings are creeping into winter. As November greets us, our young people are of course getting excited about Bonfire night. This fabulous time of year gives us as scout leaders so many opportunities to teach our young members about personal safety and measured risk. This link from the Scout Association offers a fabulous programme opportunity about how to stay safe during this special time of year
Fire Safety Badge Support.
I know that there will be many fabulous bonfire nights taking place around Suffolk Scouting venues. I hope you all have a safe yet wonderful evening of colour, fun and excitement.
The autumn term has been very busy for Suffolk and many fabulous programme activities have taken place. The Explorer Belt 2018 team undertook a practice expedition, in preparation for their adventure to Poland and the South Africa Explorer Belt contingent presented their journey to an audience of parents and an assessing panel. It was so wonderful having the opportunity to listen to their independent adventures and how it has moulded them as young people.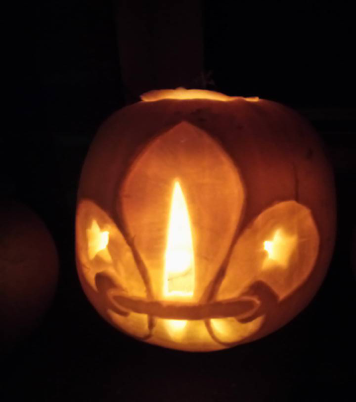 Bury St Edmunds and Stowmarket Cubs had a visit to Legoland Windsor for an autumn treat, whilst 1
st
Honington (RAF) took part in a Halloween themed evening, in which the Cubs enjoyed apple bobbing and took part in a pumpkin carving competition. There were some truly awesome designs, but I particularly liked this one by Judy Brooks.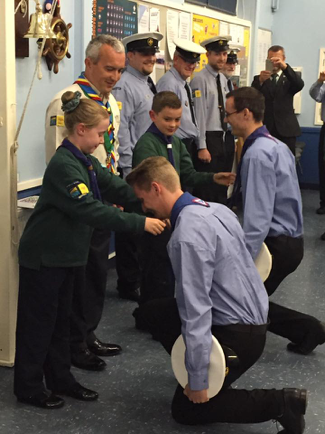 Congratulations to 1
st
Oulton Broad Sea Scouts and 1
st
Bungay Sea Scouts, who both passed their naval Inspection with flying colours. Peter Jarvis and I were so very impressed with what we saw during the inspection, including a very moving delivery of two sets of Wood Badges in which Ben Drage and Callum Howard, bent on one knee to be presented their award by the cubs that they work with. What a wonderful way of receiving recognition for training. Congratulations to these guys, as well as Mark Hansen ADC, who received the Award for Merit for his services to scouting in Lowestoft District.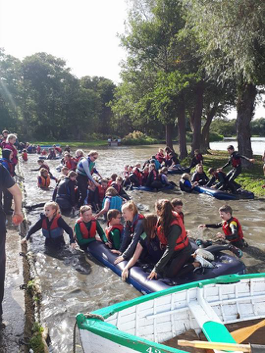 At the end of September, I had the pleasure of attending the Thorpness Mere Day. It was my first visit to this amazing event, organised principally by the fabulous leaders at 1
st
Framlingham Scout Group. This joint scout/guide water activity day, really was such fun and I found myself wanting to grab the rope to take part in the cross-island tug-o-war event.
The World Scout Jamboree roadshows have been in full swing and applications have been flying in. Selection is fast approaching and jamboree fever is flowing throughout the county. I cannot wait to meet the units from Suffolk, once they have been selected. We have one Suffolk Unit and one combined unit with our friends in Norfolk. I am certain that the participants will have the time of their lives, in the run up and whilst visiting the rest of the world in West
Virginia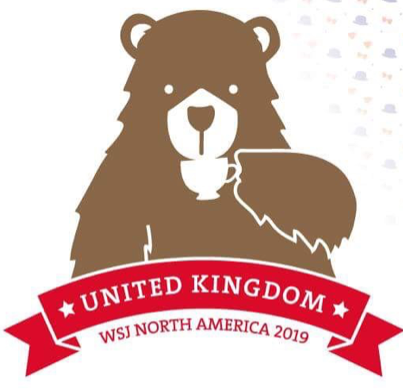 Of course, scouting gives these amazing opportunities for young people. But it is the fortunate few that get to participate in events such as the WSJ 2019. What matters as much, if not much more, is the programme that we provide as volunteers for our young people in our weekly section meetings. The quality of the scouting programme is at the heart of everything we do and makes a huge difference to the lives of young people. I am passionate about programme. I believe that a quality programme is paramount to a quality scouting experience and to growth. My county team recently met for a DC's and ACC's forum, in which the principal focus was programme. We asked ourselves difficult questions and shared ideas about how we can develop the scouting programme throughout the County. Our ACC's for youth Programme (6-1yrs), Brian Harvey and (11-18yrs), Peter Gibbs, as well as our ACC Queens Scout and Top Award Co-ordinator (14-25 yrs), Bruce Scott, are out and about learning about how they can support you to support our young people in achieving their top awards. I am so very excited about the renewed pulse that is taking hold of Suffolk in terms of programme opportunities for gaining awards. We are in exciting time folks; do look out for these guys and other members of my county team. They are here for you.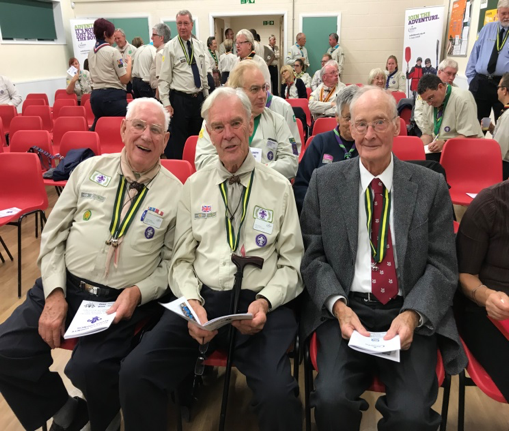 The county AGM was held in Stowmarket Scout Centre in September, at which we welcomed not one, but three of our fabulous vice presidents, Gordon Biden, John Ineson and Richard Freeman. How lovely it was to see them all together. We had a wonderful evening celebrating what we do best here in Suffolk and watched several terrific presentations. A particularly wonderful feature was to opportunity for Jenny Mullan as the outgoing CC and me to say thank you to volunteers who have notched up some considerable scouting mileage, as well as some extremely well-deserved awards.
Claire Pickering was presented with her Gold Duke of Edinburgh award, which puts her firmly on the path to gaining her QSA. Alfie Green, County Training Manager received his 5 years of service award, Matt Meyrick received The Award for Merit for his extended services to Scouting and Peter Jarvis, along with Tina Vickers received their Bar to the Silver Acorn. I am sure that you will join me in offering my heartfelt congratulations.
Of particular note were special awards, for two gentlemen who work tirelessly often behind the scenes to facilitate all that we do.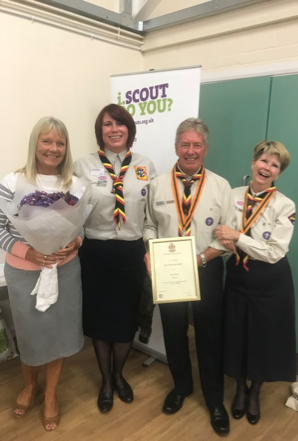 One was f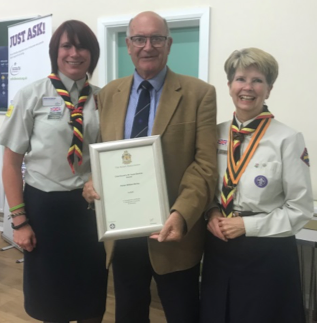 or for an incredible 50 years of service to Keven Mulley, County Treasurer. Keven is such a superb treasurer and has wide ranging experience from a plethora of scouting backgrounds, including being in the CC seat, along with that of DC, Cubs, Venture Scouting and training.
The second is to a very special man, who sits in the background at the County Office but provides huge support to me as County Commissioner, as well as to anyone who contacts the office in need of advice. Peter Buckle has been in scouting for over 30 years and this year also received The Bar to the Silver Acorn. Peter is standing down as County Administrator and I am so very grateful to him for the support he has given to Suffolk, to two former CC's and most of all to me in my first six months as County Commissioner.

There are of course, so many things to share about what we all do here in Suffolk. But before I sign off I must pay tribute to the simply amazing training academy that I took part in for the first time in October. Our training provision, developed by Leigh Foster and now being taken forward by Alfie Green is nothing short of inspirational. We are professional, inclusive and forward thinking in the way that we deliver modules and I enjoyed the academy immensely. A tremendous amount of work has gone and still goes into developing our leaders through the training scheme and I would like to thank Alfie and Leigh, along with their team for all that they do to provide such excellent training for our leaders. Suffolk also held the first of many regional managers training events and the feedback I have received has been glowing.
Suffolk, I am so very proud to be your County Commissioner. It is such a pleasure to learn of the simply fantastic events and programme opportunities you put on for our young people. We need scouting in our world, perhaps more in these troubled times than we have for many years. All that you do every week in your section meetings, at weekends at various camps and events, using the programme that you develop in conjunction with our young people, is truly life changing folks. Never underestimate the difference that you make. We must always be striving to offer the best programme we can, a programme that is relevant to the challenges and opportunities our young people are going to need equipping for. I know Suffolk that this is just what we do and will continue to do, as we move into the future.
Jane Dickinson,
County Commissioner