Hello Suffolk
I hope you all had a lovely Christmas and enjoyed the New Year celebrations. It is hard to believe that we are already in the middle of January.But time does press on and so does the scouting that we do, to facilitate our young people in their development.I must apologise for the delay in getting County News to you this month, time just seems to have slipped past so quickly and I have been a little bit preoccupied waiting for my first granddaughter to arrive.
It looks set to be a busy term. I recently met with the Assistant County Commissioner Team, to plan the next strategic steps for Suffolk as we move ever faster into 2018. I was excited by the vision of our ACC's and their plans for development. The experiences offered by CMAT and the water team, demonstrated so clearly to me the calibre of skilled leaders that we have in our county. It was particularly exciting; to learn that firm measures are being put in place to enable young people to become permit holders for a variety of activities. This approach to giving young people responsibility for themselves and others, demonstrates very clearly the youth shaped mind-set that runs as a fundamental tenant of all that we do in our County.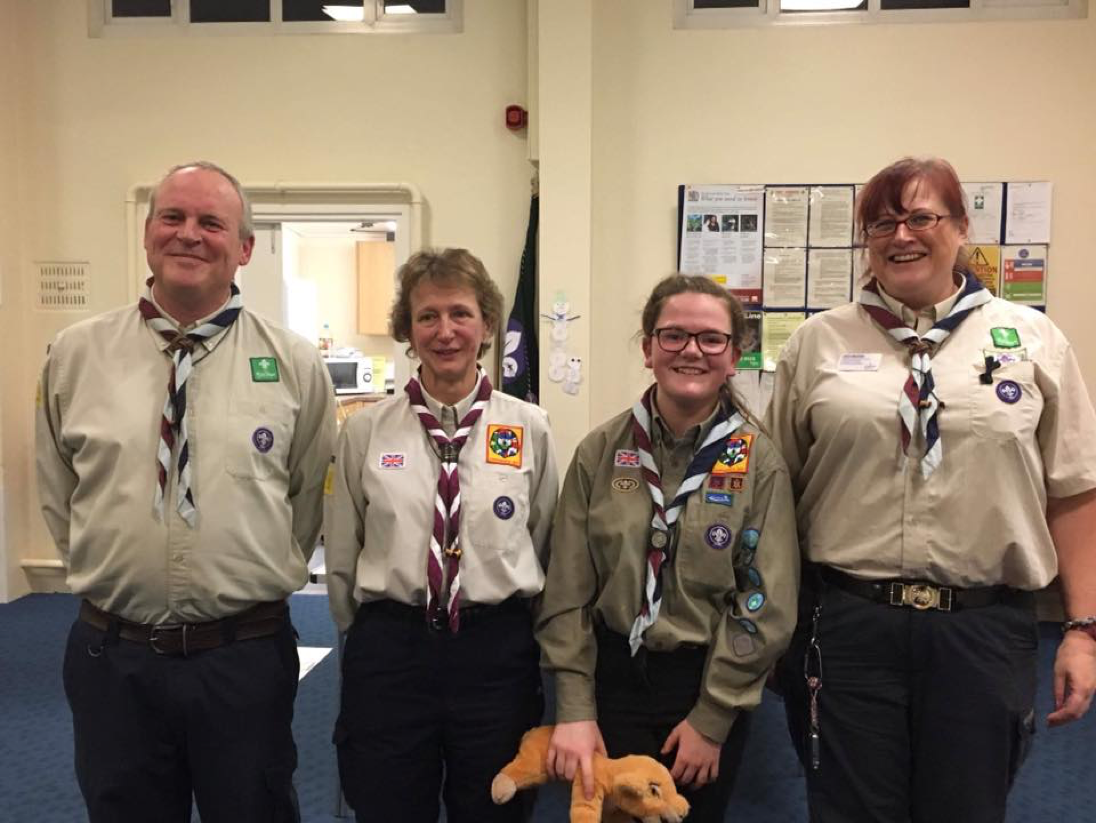 The Queens Scout lead, Bruce Scott spoke with great passion about young people being given the opportunity to achieve their QSA. Bruce is dedicated to identifying and enabling young people, particularly those who are close to the cut off in terms of age. The number of young people who have signed up for the award has rocketed since Bruce's appointment, and I urge you all to use his expertise in this field should you have any queries about the QSA. Megan Free, an Explorer scout with Discovery and a Young leader for 1st Honington RAF Cub Scouts, received her Platinum award earlier this month, the dedication of this young lady and all of our young people is just inspirational and I know that Megan will now work even harder to go for QSA.

Our sectional and International ACC's have been busy, both visiting and learning about the needs of leaders for various elements of their programme responsibility, but also in helping leaders identify the strength of their programme using the programme checker from HQ. It is a very powerful, evaluative tool, which I encourage you to use within your sections.
The County Network Team is evolving and I have seen some awesome work being done with Network in recent times, particularly in Lowestoft District where Network members are working collaboratively to improve the scouting experience of Network Scouts, whilst tracking their journey from Explorers to Adult Leadership. I applaud the work that is going on in Lowestoft and will have an exciting announcement about this section in my next dispatches.
The ACC for the International Partnership with the North West Province (Mafeking), Jackie Jones, outlined that she is now collating programme ideas from Suffolk's leaders, to build a pack that can be shared with our partners in South Africa. This comes at an exciting time, for during Easter I, along with Jackie, Karen (ACCI) and Ollie (CYC) and various other leaders, will be visiting Mafeking to formalise the partnership in writing and to share these programme ideas with them. In return, we will be bringing back programme opportunities for you to try within your sections, more on this to follow next time.
In the summer of 2017, you may recall that 113 Scouters visited South Africa for a 26 day expedition. During our adventures, we worked with a fabulous organisation called Aluwani, who are based in Limpopo Province. The experience moved so many of our young people and adult leaders, in terms of evaluating wants and needs and realising hope, love and fun can come from very humble origins indeed. One of our young members, Lewis Morfitt decided that his experience needed to have a continued legacy on his return. So Lewis approached his school and managed to convince them, through various assemblies and canvassing that a charity worth looking at for their charity week, was Aluwani. I am so proud to announce that Lewis and his school friends raised a total of £3100 for this incredible charity, all of which will go directly into the communities that Lewis worked with in 2017. I am sure like me, you are proud of the scouting ethos and the amazing effort Lewis has put in to help those less fortunate than himself, thank you Lewis!



As we approach the end of January, we enter the month of all things Youth Shaped. February is of course #youshape month and provides a fabulous opportunity to celebrate how fantastic Suffolk is at providing young people with the skills to shape their scouting experience. Youth shaped scouting hit the headlines a few years ago and many of us cried…'but isn't this what we've always done'? Well the answer is in the main part is, yes it is. Anyone who was ever involved in venture scouting will know just how much input young people had into their scouting journey then. However, here we are in 2018 and it is so important that all of us, young and old, embrace the ethos of youth shaped scouting by asking ourselves, 'are we giving the young people in our sections every chance of developing a skill set for leadership as possible'? If the answer is no, or 'we leaders decide what we do each week and run a great programme'…….Youshape month will give you a perfect opportunity to trial out some youth shaped scouting in your section. Please do see the website, or follow Suffolk scouts Youth Shaped scouting on social media, for lots of resource ideas. Ollie Smith, who was recently awarded his wood badge, works tirelessly on all things youth shaped, and I would like to thank him for the very real difference he is making in Suffolk.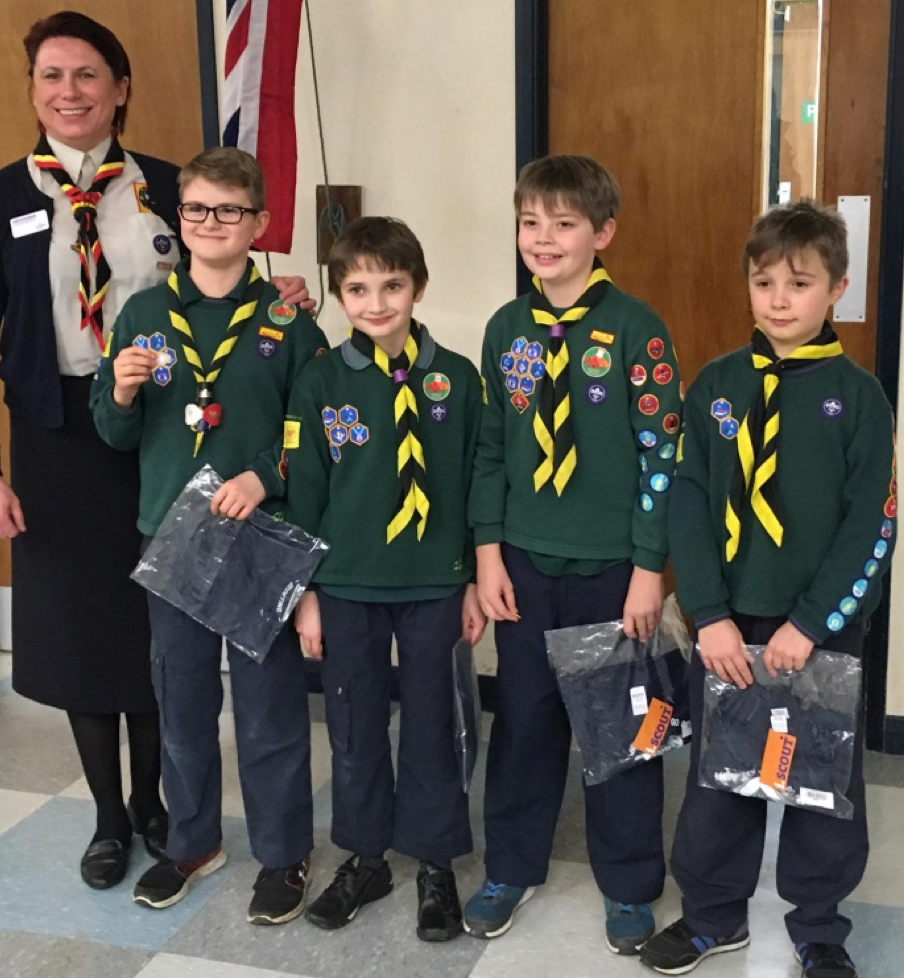 Last week, I had the pleasure of visiting the 11th Ipswich Cub Scouts to meet four young gentlemen and to present them with their well-earned Chief Scout Silver award. What a joy it was to see the pride on their faces and to also see the impact their award had on inspiring the rest of the pack at the 11th.
I hope you all have the most wonderful term, please do remember to use the county team wherever you need them, we are here to support you.

I thank you all for the amazing work that you do for our young people.
Jane Dickinson
County Commissioner