Hello Suffolk
Well the snow has melted and the air is warming up as spring creeps in to cheer us all. Last week I saw the first of the new spring lambs and it gave me such joy to see them playing and finding their feet. These youngsters starting out in life made me reflect on our young people and the journey they make into adulthood, developing new skills and learning from their experiences.
Scouting of course plays a huge role in developing our young people with a skill set not readily available in formal educational settings. We as leaders are educators, each and every one of us. Perhaps not in schools but we provide young people with an education filled with developing invaluable skills for life as well as self-respect and respect for others.
Suffolk, you have been very busy during the last few months, facilitating opportunities for our young people to take part in quality programme opportunities and celebrating our heritage and history. I have had the greatest pleasure of being able to visit just a handful of these fabulous activities and some others have been told to me by leaders excited to share their experiences.
In late February, MIldenhall Scout Group took part in a large scale event with the guides to celebrate World Thinking Day. This collaboration between the guides and scouts from Suffolk and those from the United States, saw over 200 young people taking part in Indian dancing, African drumming, Burmese storytelling, art workshops, rock painting, cooperation and collaboration games and many more activities. This inspirational day, celebrated on 22nd February each year sees Scouts and Guides from all over the world, thinking of each other and of their commitment to international friendship and understanding. This is World Thinking Day for Girl Guiding and Girl Scouting, and as most of you will know, Founder's Day for Scouting.
I, along with Ollie Smith our County Youth Commissioner had the greatest pleasure of being invited to Deben District's Cub night hike in Otley. Karen Trickey and a team of fantastic leaders put together a night of muddy boots, fresh faces, stars and youth shaped scouting as Cubs from across Deben led their groups on their 5Km hike towards the comfort of the Otley HQ, a warm cup of soup and a movie on the big screen. The dedication and planning that went in to the event was a testament to the quality provision we offer our young people. Ollie and I had a wonderful time, and I think the Cubs certainly did too!!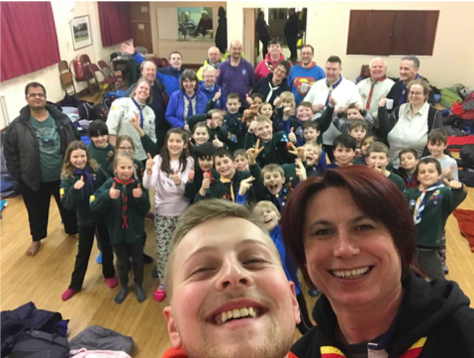 Speaking of Youth Shaped Scouting, of course February was #YouShape month and so many of you celebrated this by advertising how much our young people shape their scouting experience. From the youngest of Beavers in a colony to the Explorers and Networkers who plan not only their programme, but also take part in the governance of our movement. Wolsey held a Cub Council day, which was well attended In February and Ollie held the first induction day for the new District Youth Commissioners and our two young County Executive members. Barbara and Steve, DC's of Stowmarket and Wolsey also attended the induction day along with Peter Jarvis and me. I was blown away by the dedication of these young people to inspiring other young people to shape their scouting and by Ollie's leadership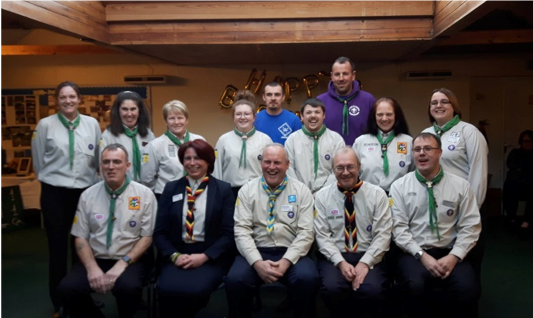 and promotion of all things youth shaped. I am always proud to be County Commissioner, but my goodness on this day; I was beaming with pride for the legacy that we are creating for our movement as we move into the future. Folks, I can assure you, the future is in very safe hands indeed.

Our young people are of course the future, but I often reflect with admiration and pride on the wonderful experience and skill sets we have in our adult leadership body here in Suffolk.

This was a poignant thought as I attended the loveliest service for Peter Reynolds, as his friends from Scouting and his family, celebrated a life spent dedicated to serving others. Peter Reynolds was a true scout, who kept the most meticulous records and collections of scouting memorabilia. He was awarded his 60 years' service award by Barbara Cutting, Stowmarket DC, shortly before he passed away and my goodness what a 60 years they were! The memorabilia and items that Peter collected over the years were really very moving and it was an honour to hear about his journey through the movement and the incredible contribution he made to Scouting, very notably but not exclusive to, being a founding lead in the purchase of the beautiful Bradfield Park, near Bury St Edmunds. Bradfield Park is a real jewel in the Suffolk Crown, with its natural back to basics environment and most beautiful landscape. Jenny and John Mullan, along with Arnaud Therin and Bill Evans and the Bradfield Committee do the most incredible job in driving the site's future forward and making the facilities fit for the best outdoor and indoor experience. I am so very grateful to both the late Peter Reynolds for securing the site and to Jenny and team for the work they continue to do to secure its future.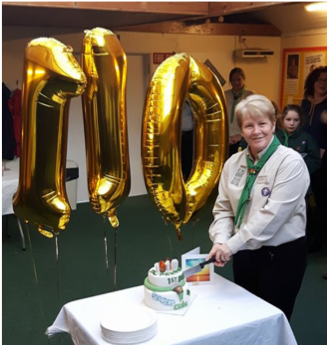 I also had the greatest pleasure of attending 1st Bury St Edmunds (Mayors Own) 110th Birthday celebrations in late February. It was really quite an afternoon filled with photographs, videos and memorabilia from over a century of scouting. One of the most moving things for me on the day was the images of three generations of scouting women, all of whom were or are members of the 1st. I even saw a photo of a Cub guard of honour, lining the wedding party's entrance to Akela's wedding 'a few' years back!! It is possible that the 1st Bury St Edmunds is not only the oldest group in Suffolk, but quite possibly in the land and I currently have Carl Gloess,our County Administrator on a detective trail with the HQ heritage team to find out! Speaking of older scouting……… How many of you saw my post on the Suffolk Scouts Support Centre facebook page about the awesome Gordon Biden and his length of service to Scouting? Gordon is a GSL at Great Barton Scout Group and as well as being a Kings Scout, has notched up so far a total of 81 years of service and 71 as an adult leader! What an incredible achievement that is and he is still leading a strong and vibrant group. Mr B….You are the stuff of legends!!
In January, Ollie and I attended the Norfolk County Conference, which focused on skills for life and growth strategies for the future. Matt Burrell, Norfolk CC and I work closely together on ensuring that both of our counties have every opportunity to offer scouting provision for young people. The conference was inspirational and also reassuring, as it became clear that the strategies that Suffolk has for growth and development are mirrored in other counties in our region. We are planning our conference as we speak and more details will follow about this in due course. I have met, as I regularly do with the District Commissioners and the rest of the County Team to discuss growth, provision and quality of programme and we look forward to you learning more about the Suffolk County Conference as it develops momentum.
Of course the information that is gathered about the provision we offer to young people is captured in the census and I would like to personally thank every single leader, GSL and DC for the efforts in getting their census completed on time. I am not ashamed to boast that we were the first county to have a full return in the eastern region. That is down to the efforts of all of you fabulous folks, as well as the work done by Carl Gloess and Peter Buckle in submitting our final return. I am unable to disclose just yet what our County figures look like, suffice to say, I had a huge smile on my face when I read the headlines. Thank you all so very much.

In four weeks' time it will be the opening curtain for the Ipswich Gang Show, who this year are celebrating their 80th anniversary. Tickets are still available and I wish all of those taking part the very best of luck for a fabulous set of shows. Tickets are available from www.ipswichgangshow.org.uk. I will sadly not be able to attend this wonderful event, as I along with eight other leaders will be travelling to Mafeking to formalise our partnership with the North West Province, South Africa.
At the end of March, we will say goodbye to Matt Mills who has served for over five years as the Regional Commissioner for the Eastern Region. Matt has been an incredible source of support to me in my first year as County Commissioner and I know that he supported Jenny superbly during her time in the hot seat. I thank Matt for all of his help and advice and wish him all the very best in his future endeavours. Graham Woolley, will take over as the new Regional Commissioner on April 1st and I am looking forward to working with him as we move forward.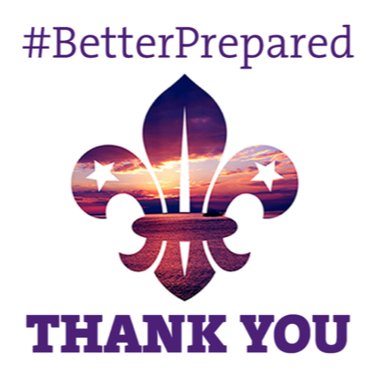 My final thoughts that I would like to share with you in these dispatches are for the executives that underpin the management and governance of all that we do, in this scouting game that we play. At the County Executive last week, I was struck as I always am, by a sense of such incredible pride for our movement. We as leaders do so much and ask for so little in return, for our reward is in knowing that we make a difference week in, week out to young people's lives as well as the friendships that scouting offers us through the people that we meet. But the executive committee in many cases don't get to witness first-hand the smile on that Beaver's face as they win in a wide game, or that Cub who successfully cooked their first backwoods banana pudding, or that Scout's first successful arrow in the inner ring on the archery range. The executive committees that support what we do are in the most part the silent supporters, who consistently provide governance and support for groups, districts and of course the County. So Executive Committee members, I applaud you and thank you for everything that you do to facilitate and support what we do in scouting.
I recently visited 1st Saxmundham Scout Group and whilst there I met the group chairman, Hadyn, who regularly comes along to help at Scouts. How fabulous I thought, to see executive members at grass roots level. How much more meaning must that give to their executive support. I came away from that meeting feeling inspired to invite the County Executive to a few programme opportunities, to give them the opportunity to see first-hand enjoy what this most fabulous game of ours entails.
Have a lovely Easter break folks. Thank you again, for all that you do.

Jane Dickinson
County Commissioner