Hello Suffolk
What a busy few months we have all had, as we head into the summer. As always I have been blown away by the quality scouting experiences we have been giving our young people and the opportunities they are being given to shape their experience, whilst developing skills for life.
The new branding guidelines were released in May and alongside it the new logo for our movement. The feedback I have had about the new brand has been overwhelmingly positive, in both our young people and our adult volunteers. The fresh new look to the scouting brand doesn't change the provision we offer on the ground of course, but it does give us a fresh, marketable logo that has been designed to reflect our movement as a modern, contemporary provision for young people up and down the UK. It has been lovely to see so many of you using the new branding in advertising your events, activities and fundraisers. I urge you all to promote scouting using the new brand, so that we are offering a consistent message to those both in and out of scouting about who we are and what we stand for. More information and resources about all things branding can be found here - https://scoutsbrand.org.uk/home.
We have now well and truly entered the season of annual review meetings, across groups and districts. I wish you all well for these and hope you all have a good turnout and recruit executive committee's successfully. Executive committees are often the unseen and unsung part of scouting, but their contribution is vital for the success of the provision that we offer. AGM's offer us all an opportunity to thank our executive members for all of their hard work behind the scenes and to celebrate the successes that groups and sections have had over the last year. If you need any support recruiting your exec, please do let us know and we will help you with advice and guidance wherever needed.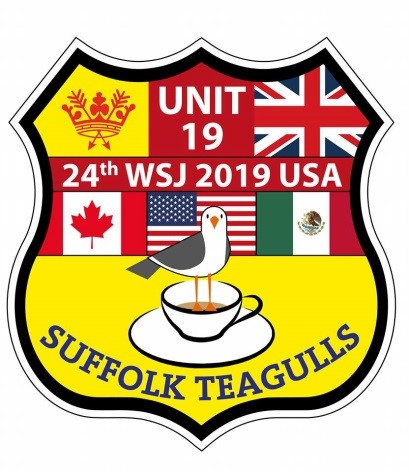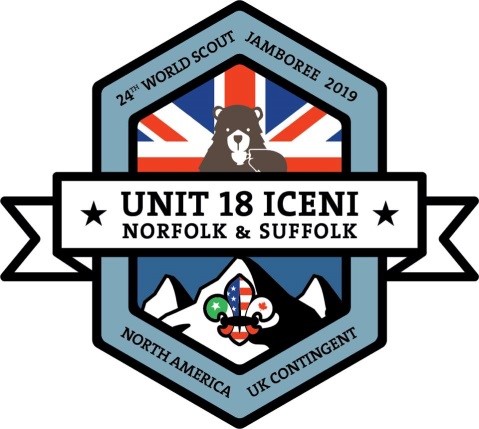 Many executives have been extremely supportive of the WSJ teams as they prepare for their journey to West Virginia next July. The Suffolk Unit (19), also known as 'The Suffolk Teagulls', as well as the combined Suffolk/Norfolk Unit (18), also known as 'ICENI', are growing as units and are making strides in bonding as units. You will I am sure have seen a plethora of fundraising activities being held, as the young people and adult volunteers work to raise the funds to go on the adventure of a lifetime. Not least of these is the development of the unit badges, which are available for sale from the unit leaders, at a price of £2.50 each. The badges can be worn on uniform. Principally permission has been given for the Suffolk Unit's badge to be worn on uniform. However, if your group or unit are supporting a member of ICENI, then by all means you can wear their badge on your uniform in its place. Due to available space on uniforms, permission has not been given for both badges to be worn on uniform, however I encourage you to support both units, therefore the second badge can be placed on a camp blanket or the like. In 2015, many groups purchased badges for their young members to wear in celebration of the Jamboree, and this made a tremendous difference to the fundraising efforts of participants.
Suffolk's contribution to the International Service Team, have also now been selected and recently had their first training camp in Walesby. We are so proud that amongst our IST crew, we have three young people selected to go. Congratulations to Karen Pettitt, Keith Gleen, Tina Vickers, Tilly Crowhurst, Alex Dye, Andrew Reynolds and Matt Meyrick. I know that you will have the most wonderful adventure and I thank you for the support that you will give the two units from Suffolk, in the run up to and during the WSJ 2019.
Of course as scouts we offer outdoor experiences all year round, but as the warm weather approaches there are many camps across groups and districts. In late May, Deben District held a fun filled Cub Camp at Bradfield Park. It was so lovely to see all of the gates that each camp had made to mark the entrance into the camp. In May, I also visited Lowestoft's reunion camp at the beautiful Herringfleet site, in which I was overwhelmed by the programme opportunities that were being offered to scouts, both in terms of youth shaped activities and also in terms of skills for life. Well done to Karen Trickey and her team from Deben and to Mark Hansen and his team in Lowestoft for two highly successful events. Orwell Scouts had a highly successful camp and also the cubs had a fun packed district evening, full of youth shaped activities. The outdoor programme that Suffolk offers are too many to mention here in dispatches, but I would like to thank you all for all that you do to provide these opportunities for our young people. I know first-hand how much effort goes into these activities and the amount of work involved.
Ollie Smith the County Youth Commissioner has been very busy out visiting lots of other activities, as well as recruiting District Youth Commissioners, who will work with DC's to further develop opportunities for young people to shape their own scouting experience. A huge welcome to Zack Betts and Rob Johnson from Orwell, as well as Keri John and Stephen Woollard from Bury St Edmunds, who join Andrew from Wolsey and Jake and Callum from Lowestoft. Thank you all for the support you are giving to young people in shaping their scouting and to Ollie for his tireless approach to all things youth shaped.


I was delighted to see four of Suffolk's finest young adult leaders, from Deben District collecting their Gold Duke of Edinburgh award at Buckingham Palace in May. What a great testament to the work they have put in. Getting the gold DofE award is no mean feat; it demonstrates a great deal of hard work, determination and tenacity and is a top award to be extremely proud of. In Suffolk, we have put top awards at the top of our agenda as we develop as a county.

Top awards from across all sections, culminating of course with the Queens Scout Award, are achieved when young people have completed all of the balanced programme requirements and give them a real opportunity to sell themselves in college, university and job interviews.

These awards are designed with 'skills for life' at their very core. In Suffolk last year, 17% of Beavers achieved their CS Bronze award, 13% of cubs achieved their Silver and 6% of Scouts achieved their Gold. For Explorers, 7%, 2% and 2% achieved their Diamond, Platinum and YL Belts respectively. Sadly, we had no Queens Scouts last year and just one the year before. I offer huge congratulations to all the young people who received their Chief Scout Awards last year and my sincere gratitude to all of you who have put so much in to getting them there.
Those of you, who know me well, will know that one of my passions in this terrific movement, to which we all belong, is the scouting programme. It is not uncommon for me to get onto my soap box about programme and so I ask you to forgive me for doing so a little in these dispatches.

I have on occasion come across the sentiment that not all young people should perhaps get the top award, for if everyone achieves it then it isn't really a top award at all. I wholeheartedly disagree with this sentiment and if I may indulge, I would like to outline my reasons why. The balanced programme is in a sense, the scouting 'curriculum'. Of course, we are not a school and we never will be… yet we, as leaders, are all teachers. We are teachers of an alternative curriculum that offers skills for life to young people. The curriculum, if covered by the young person, should I believe all things being equal, lead to that young person achieving their top award. In formal education, teachers are employed to ensure that all students have the opportunity to achieve in their summer exams, by covering the curriculum content in full. As leaders in scouting we are all amazing, dedicated people, who give up so much of our own time to provide incredible opportunities for young people.
Our 'curriculum', whilst very different should give our young people every opportunity to achieve the top award for their section. I consider it our duty as facilitators to provide and support such opportunities. We must all be brave enough to reflect on our programme, to use the quality programme checker to identify the strengths and weaknesses of the programme we deliver and to keep up to date with changes, ideas and support materials from HQ to help us ensure we cover the 'curriculum' that is our balanced programme in full. In doing so, we will know that every young person has the opportunity to achieve the top award for their section.
As we head into the summer months and sections start to look at planning for the next scouting year, perhaps we all have a timely opportunity to reflect on the programme that we offer our young people and to ask ourselves the question: Is this going to enable success for our young people to achieve their CS award, or is this what we have always done?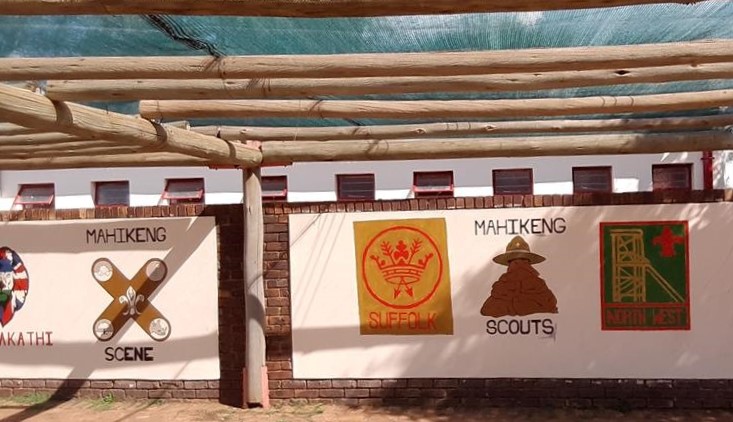 Talking about programme…….. as you will know, last year 113 scouters undertook a 26 day expedition to South Africa and Lesotho. Our participants had the most wonderful adventure, which I am sure many are still referring to. Each and every one of them made a very real difference to the lives of many young people, particularly in the North West Province, where we were able to work with local scouts and to change the face of their campsite at Mafeking, the birth place of scouting.
Our legacy did not end with the work that our participants did whilst on the expedition. My team and I, along with the Regional Commissioner Thabiso Majola and his team from Scouts South Africa, North West Province, have been working tirelessly since our return to develop a partnership between Suffolk Scouts and the North West Province.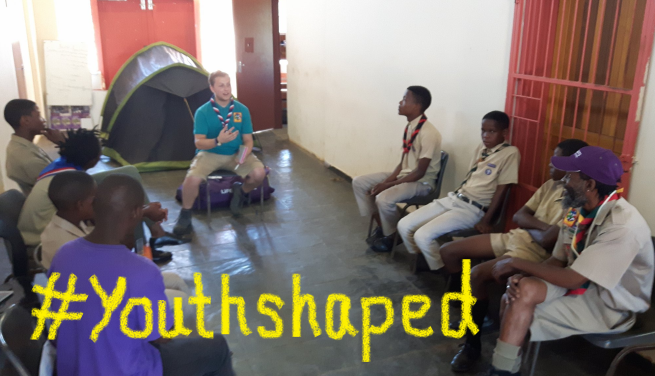 During Easter, a small team visited the North West and spent a weekend working with our colleagues there, running a programme sharing camp with young people from the North West Province. The camp was a huge success and culminated in the formal signing of a partnership agreement between our two scouting bodies.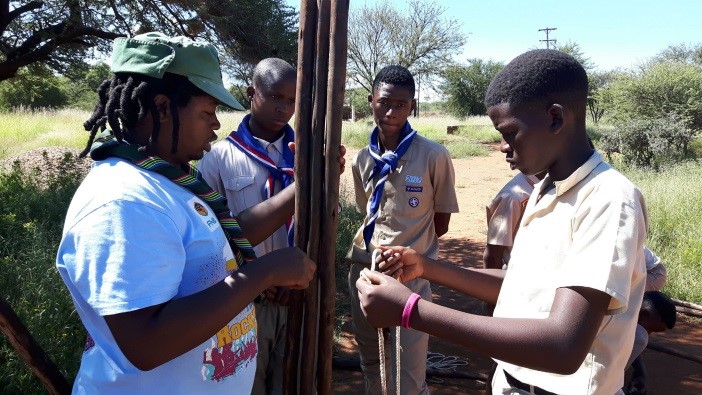 I am delighted to be able to share with you that we have now finalised and formally signed a partnership agreement, which will see a long term relationship between our two regions and will continue to provide opportunities for scouts from very impoverished backgrounds in the NW Province, as well as for our scouts here in Suffolk.



The partnership encompasses four main strands, as follows:

1) Programme opportunities and ideas will be shared between the two regions to support the development of scouting and the provision of a balanced programme for young people and adult volunteers.

2) Suffolk Scouts will have access to opportunities for scouting activities in the North West Region and will be provided safe, risk assessed opportunities to visit the region to experience cultural exchange and to facilitate programme support. This strand will incorporate a commitment from the North West Regional Team to ensure that accommodation and routes/programme ideas are safe and that reporting procedures are adhered to according to the policies, organisation and rules of the SSA and UK Scout Association. Suffolk scouts will be responsible for all their own costs and will also cover the costs of any members of SSA from the NW Region who accompany them.

3) Scouts from the North West Region will be given an opportunity to visit the United Kingdom, on a fully funded basis on a four year cycle in order to ensure an international opportunity. The first of these will occur in 2021, for the Suffolk International MOOT.

4) Suffolk Scouts will provide financial support for at least one mutually identified developmental or programme activity per annum, for scouting in the North West Region.

As part of Suffolk Scouts commitment to the partnership, we have already sent five young people from the NW Province to the South African National Jamboree and have recently funded a young adult leader to attend a scouting exchange in the United States of America. We are so very excited about the opportunities this partnership will bring for both areas.

In order for us to fulfil our commitment to the partnership, we are opening a solidarity account to raise funds. Part of the fundraising will be achieved from the launch of an exciting and brand new set of Suffolk Scout hoodies, available for leaders and young people to order, as well as from a partnership badge for which we will be launching a competition in conjunction with our partners in the next few weeks. We launched a survey to get your thoughts on hoodie designs, which can be found here, so please do have a look and let us know what you think at https://www.surveymonkey.co.uk/r/8QJ2JMQ. Please keep your eyes peeled for the badge competition, as we would really like as many sections as possible to take part.

We are looking for sections and groups to act as pilots for the first strand of the partnership, which is programme support and exchange. The pilot will involve you sharing a programme that you run with the ACC for the partnership, Jackie Jones, so that she can collate your ideas and share them with groups in the NW Province. The kind of programmes we are looking for, are those which are low resource and not expensive to run. As you can imagine, funding in the NW Province for expensive activities is very limited and so the simpler the activity, the better really.

In exchange, we will put you in touch with a group or section, so that you can start communicating with them about the programme you are sharing. They in return, will communicate with you about the programme they are running and perhaps you might like to have a go at mirroring one or two of the activities as a way of working towards many different elements of the programme, but particularly the global element, which can be challenging to deliver.

Suffolk, you are all simply terrific. Thank you for all of the time that you give to make a difference in young people's lives. Scouting gives so much, to so many, and of course that doesn't exclude us as adult volunteers. Many units, groups, districts and counties have teams that work together so incredibly well, often because of the deep friendships that grow due to the common bond of the scout brotherhood that we all share. Many of my friends are in the scouting movement and I am sure that my experience would not be as rich without them. Thank you again for all that you do, for the fun and adventure that you give and I feel pretty confident in saying; that you probably receive in return.

I hope to see lots of you at the County AGM in September and wish you a warm, fun filled summer.

Jane Dickinson,

County Commissioner