We have linked with Volunteer Suffolk which may have further specific volunteer positions advertised for local scout groups - please go to the
Volunteer Suffolk website
for more information and where you can see an outline of all the roles advertised.
Please find below some of the current vacancies that we have in Suffolk. Details are available in the links associated.
Please contact the
County Office
in these cases.
---
Wolsey District - various roles

The Wolsey District* has a number of vacancies that require your attention. Please can you look at these and if you feel able, please consider taking them on or suggesting a candidate. Closing date for all roles is 11th December 2020. Further role information is contained in associated role download links.
a) District Chair - We are seeking a forward thinking and enthusiastic individual with experience in developing and seeing through the strategic plan. Are you looking for a new challenge to develop +800 young people with their skills for life and support +350 adult volunteers in the district? Tou will be a Trustee of the district and have the ability to manage and lead a team of equally enthusiastic people and chair the District Executive.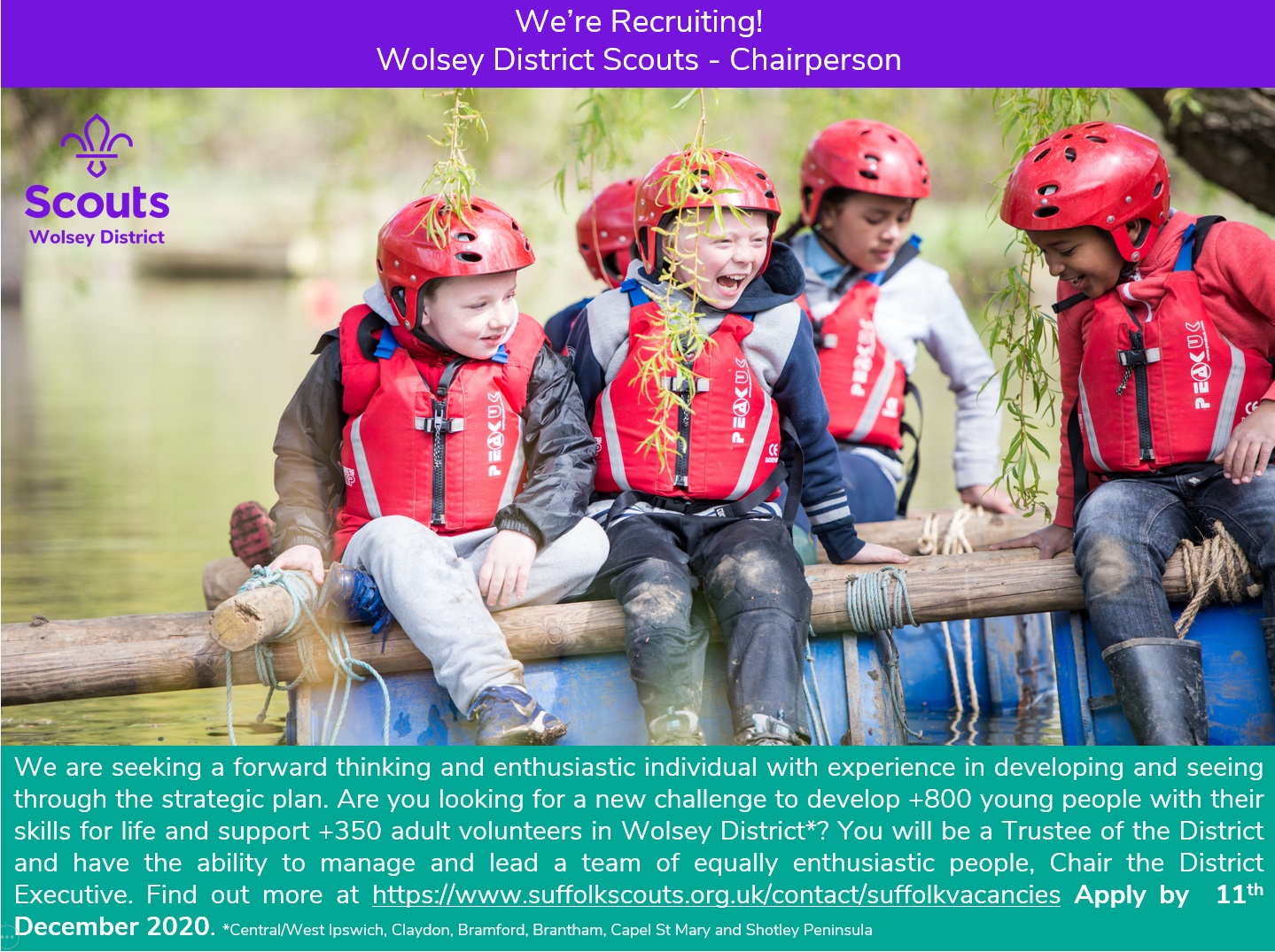 b) District Network Commissioner - Scouting is built by young people for young people. Wolsey District is recruiting a Network Commissioner to lead our 18-25 year olds, support Network members in projects themed arounf Adventure, International and Community and to help members organise programmes and their journey to the Queens Scout Award and Chief Scouts Diamond Award.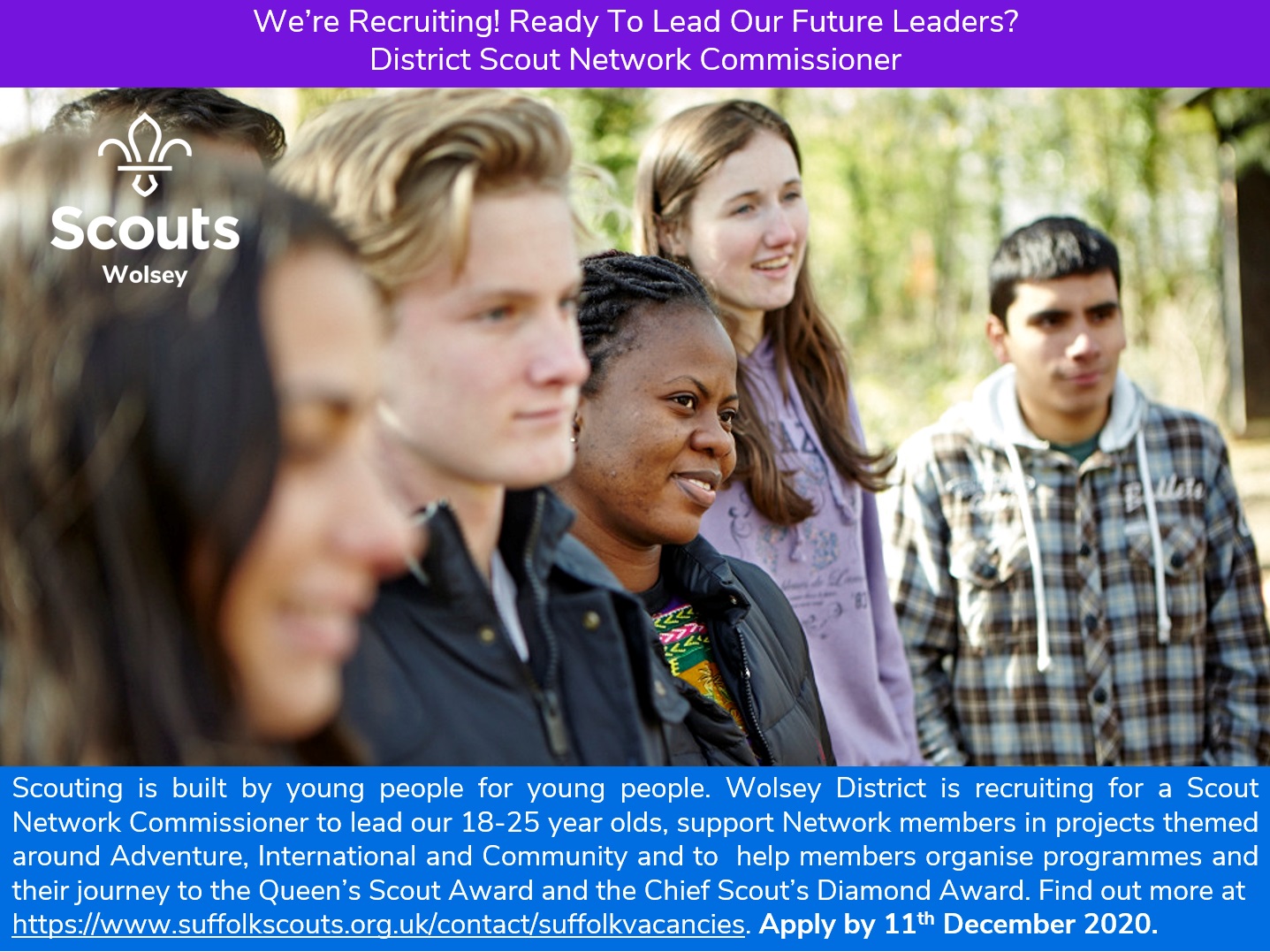 c) District Explorer Scout Commissioner - Are you enthusiatic, full of ideas and looking for a challenge to help Explorer Scouts (14-18 year olds) develop their skills for life? Why not enquire about joining the new Wolsey District team as we embark on our journey to help young people do more, learn more and be more.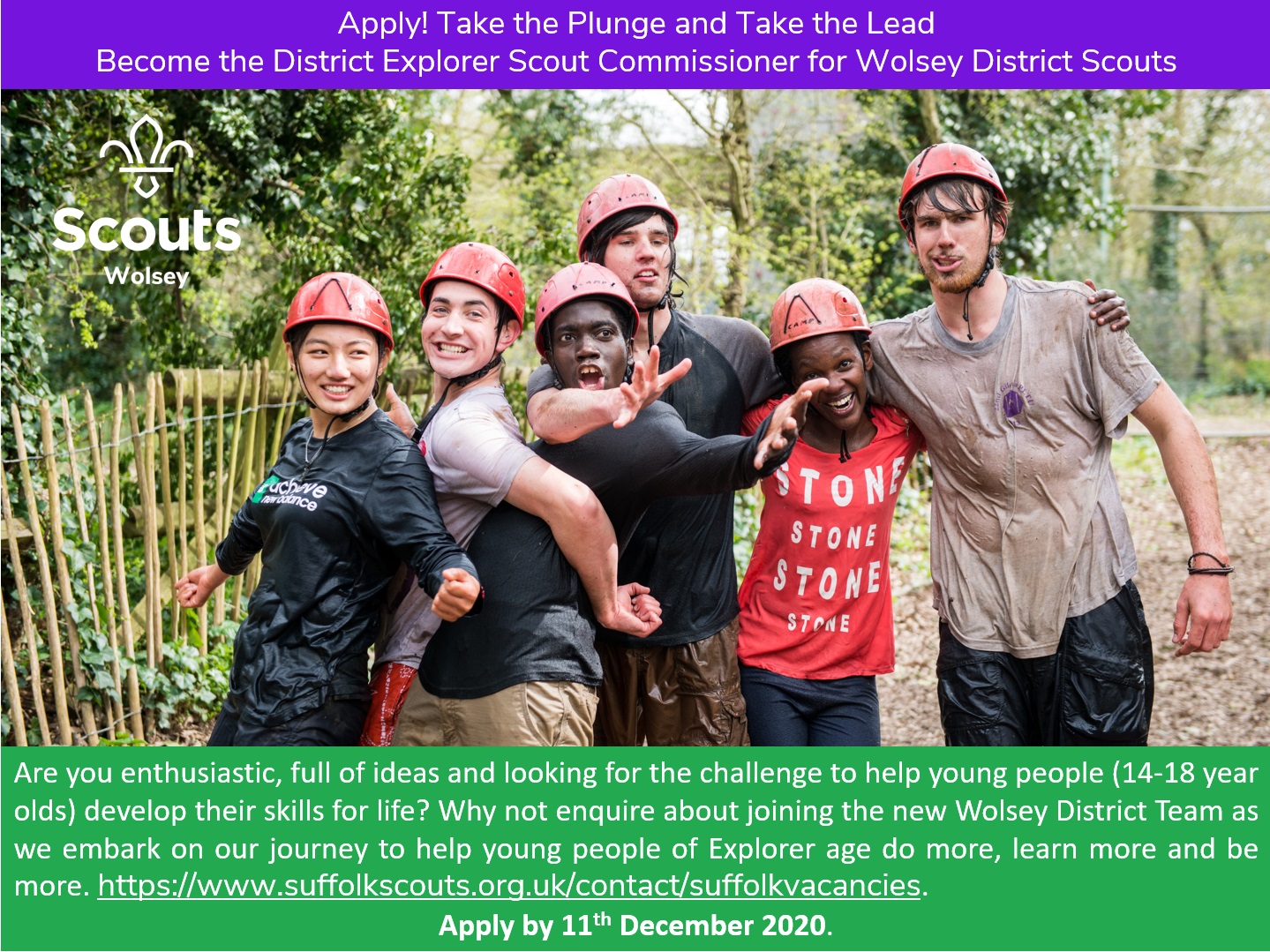 d) District Scout Active Support (SAS) Manager - Are you enthusiastic, full of ideas and looking for the next challenge to help support our young people develop their skills for life? Why not join as the SAS Manager (leading the SAS Unit) and be part of the new Wolsey District Team as they embark on their journey to help our Section Leaders to enable young people to do more, learn more and be more.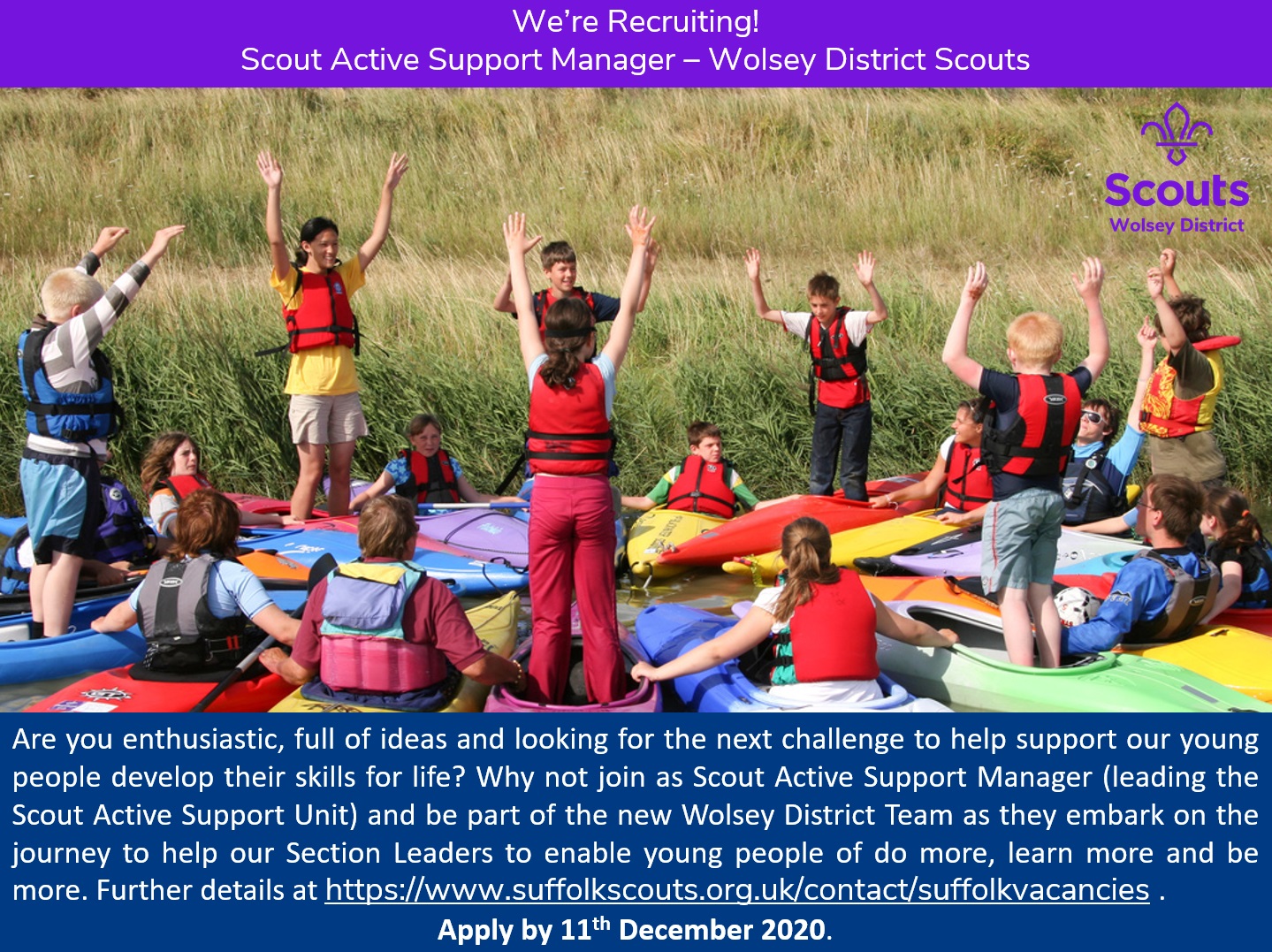 e) District Appointments Panel Member - Come along and be part of the team interviewing adults joining Scouting or progressing to new roles. You will be part of the panel that recommends appointments to the Wolsey District Commissioner, Knowledge of Scouting is not essential. You will be helping Scouting run effectively and enabling young people to achieve 'Skills for Life' through passionate volunteer leaders you've selected. It's an opportunity for you to meet some really great people too!
If this opportunity appeals to you, please contact This email address is being protected from spambots. You need JavaScript enabled to view it. for a chat about the role. We are particularly interested in hearing from those aged between 18 and 25 years old, though we welcome all ages.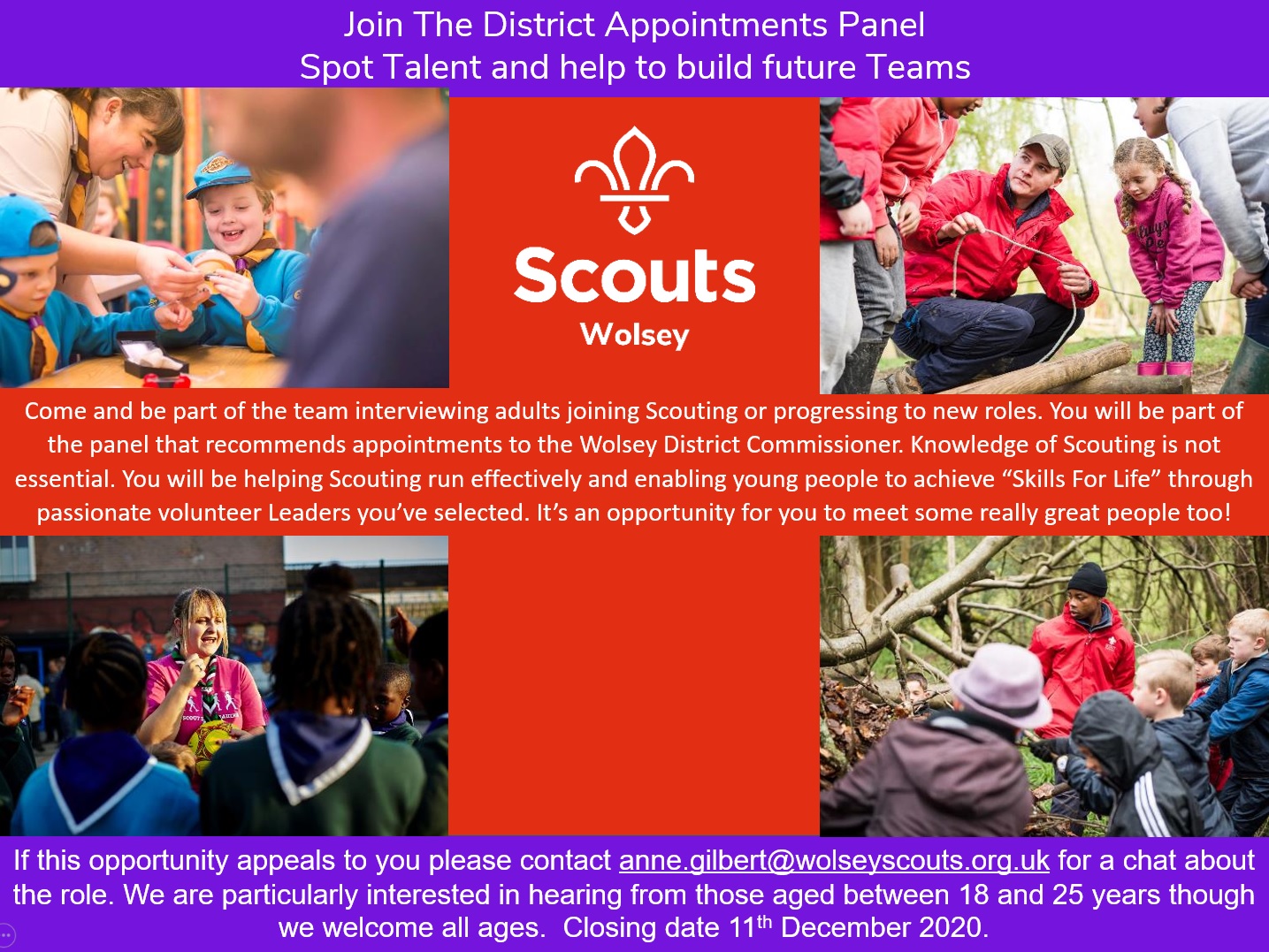 * Wolsey District covers Central/West Ipswich, Claydon, Bramford, Capel St Mary and Shotley Peninsula.
---
Training Advisors
We are continuing to roll out our Skills for Life Strategy and we need to make sure that our volunteer leaders and managers are receiving the best possible support when it comes to training and their personal development. This will enable leaders and managers to be confident that they are able to provide the best possible Scouting to young people and feel well supported by a team of training advisers. We already have excellent levels of compliance to training and we need to ensure that volunteers feel they have someone to turn to and help them in their personal development within Scouting.
There is now an opportunity for you to apply or put forward someone you know for Training Advisors and Training Advisors (Managers and Supporters). Please contact This email address is being protected from spambots. You need JavaScript enabled to view it., County Training Manager or This email address is being protected from spambots. You need JavaScript enabled to view it., Deputy County Training Manager (Managers & Supporters) to find out more about what's involved.
Don't hold back, ask for more information and you may find yourself qualified to take on the challenge!
As a Training Advisor, you will have the opportunity to work with and mentor adults new to Scouting or taking on a new role. You will form part of the People Team in the County, who are responsible for training, permits and adult education and development. You will be based within a District although you may be asked from time to time to provide support to others in the County.
You will know how to motivate people, develop personal development plans and have the charisma to inspire your mentees. Above all, you will believe passionately in Scouting for All; helping Scouting grow, become more inclusive, more youth shaped and make a positive impact in local communities.
Both are challenging roles, but the rewards are huge; ultimately improving the outcomes of thousands of young people across Suffolk through a knowledgeable and passionate team of adult volunteers. There will be full training, mentoring and team building to support you in your new role.
Please drop us a line today as applications need to be in by 15th December 2020.
Suffolk Scouts is part of the Scouts, offering fun, friendship and skills for life to over 460,000 young people across the UK and 6000 young people in Suffolk.
This email address is being protected from spambots. You need JavaScript enabled to view it. This email address is being protected from spambots. You need JavaScript enabled to view it.
County Training Manager & People Lead Deputy County Training Manager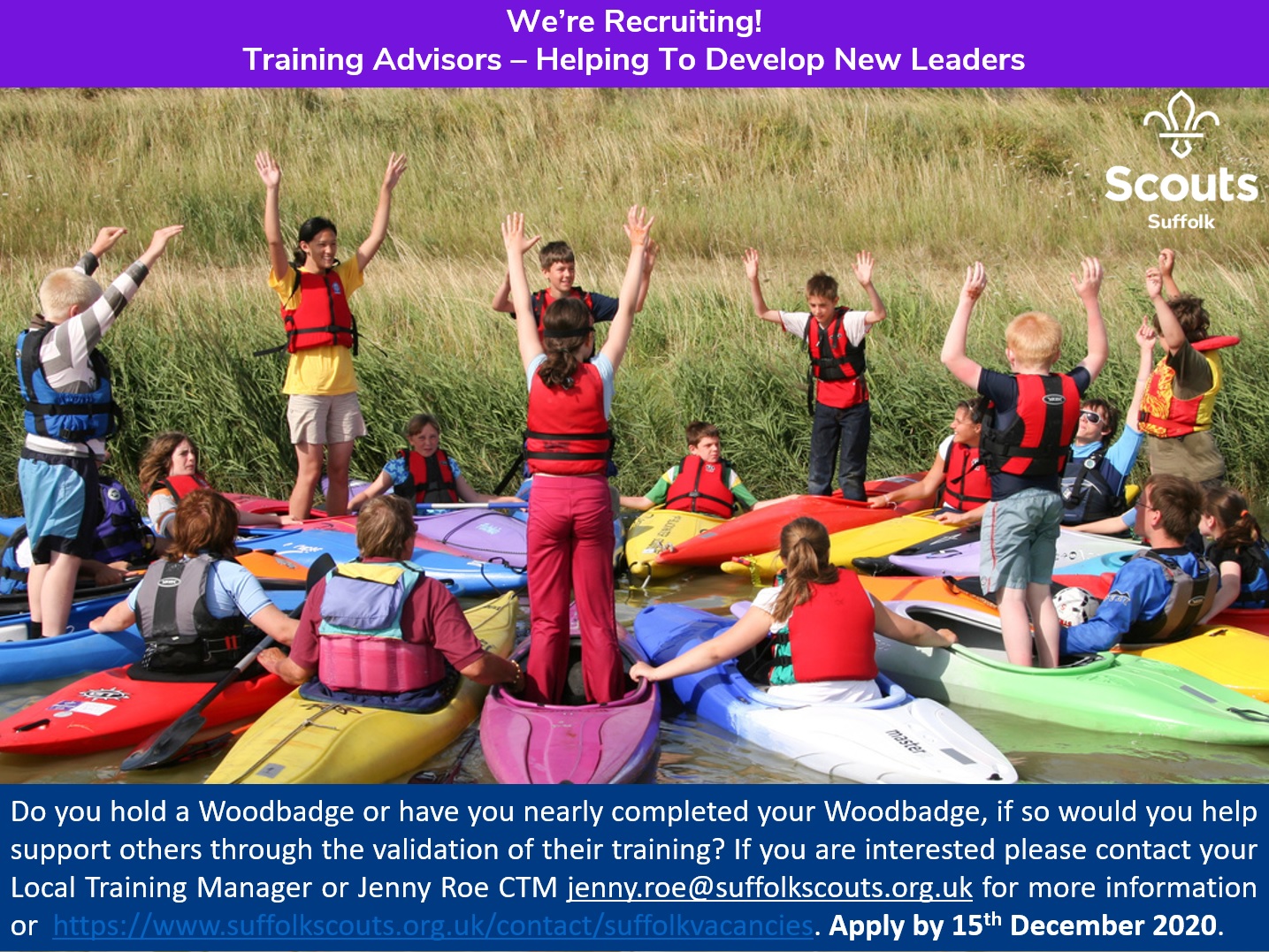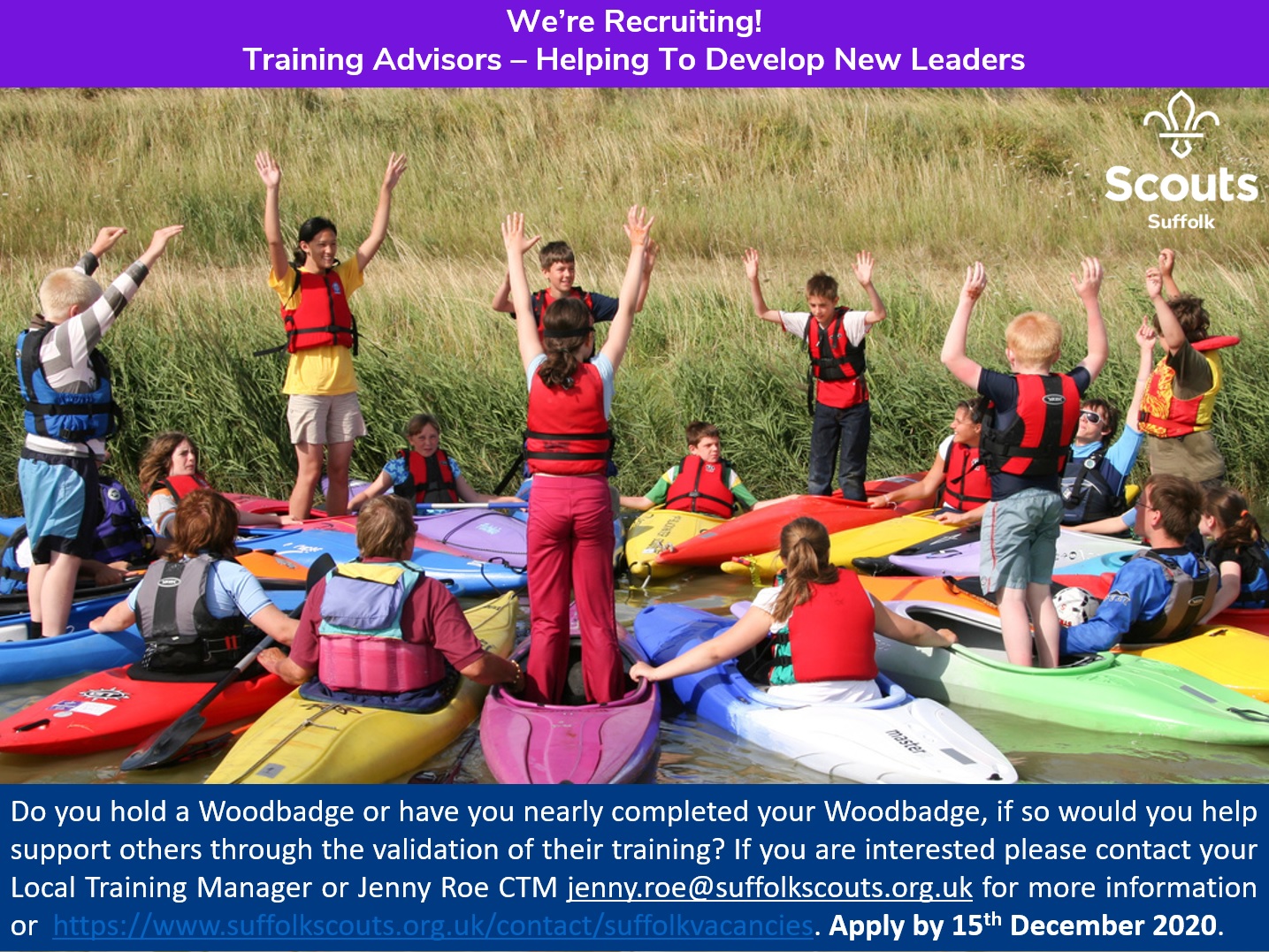 ---