"…we had a sailing boat of our own on which we lived and cruised about, at all seasons and in all weathers, and we had a jolly good time – taking the rough with the smooth." (Lord Baden Powell 1932).
We do seem to have been taking the rough over the last few months with very little smooth sailing. Having all put in so much effort to return to scouting over the last few months, the notice of a further lockdown was a disappointment.
The news of a potential vaccine for Covid-19 is a boost to our future plans. Whilst nothing is yet certain, we can start looking forward to returning towards normality during next year. Now would be a good time to start planning some exciting activities for when we are able to start meeting again. Perhaps the idea of a return to camping again might be an alluring thought.
Baden Powell would not have spent his time looking at the downside and in his final letter, he inspired scouts to "look on the bright side of things instead of the gloomy one".
D of E Award Success
Despite the complications of the Covid restrictions 15 Explorers from three units in Suffolk have managed to complete their expeditions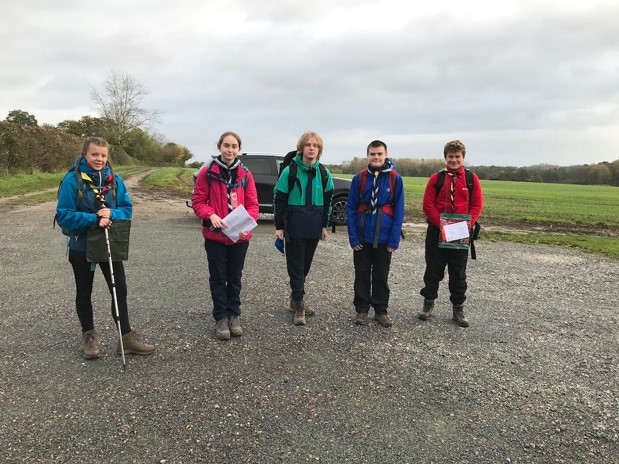 towards their Bronze and Silver awards. Good forward planning by both leaders and the Explorers allowed the group to achieve exciting and challenging activities, but still adhere to the government and scouting safety guidelines. You can read more about this here.
Race Round the World
There is still time to join the Race Round the World fundraising initiative. This is an activity that aligns itself well with remote scouting and continues until the 11th December. At the time of writing over £72,000 has been raised nationwide and the Cubs are in the lead. Read about this here.
Virtual Scouting
A few words from Ollie Smith, who is leading our Programme Team:
Here are some great places to look to support you running your programme virtually with suggestions for home assignments/ activities:
Scout activities: https://www.scouts.org.uk/activities
1st Virtual Scout Facebook group: https://www.facebook.com/groups/208981546868424/
If you have any good ideas or programme activities, please feel free to let us know at This email address is being protected from spambots. You need JavaScript enabled to view it.
In the near future we will be reviewing the results of the survey, and utilising these to look how to best support you during these times. Please don't hesitate if you have any questions or need some support.
Footnotes
Please do support your scouting colleagues at this time. Some of us are quite resilient and are able to cope with the hardships of lockdown, but others find these times difficult. Just a quick phone call or video call can be uplifting in these difficult times.
Best wishes
Mark Pearson
County Commissioner – Suffolk