Suffolk Re Energise
Here's what you need to know
The event is aimed at all adult volunteers of Suffolk Scouts, but if you need to bring your young people you are the parent / carer to that's fine!

Saturday: the event is 10:00 – 16:00

Sunday: the event is 10:00- 14:00

It's a non-uniformed event

Food will not be provided but teas and coffees will be!

The event is at Hallowtree Activity Centre (please see the map below for where things will be happening)

Please bring your own laptop/ mobile device to engage with some the sessions

Please bring your own mug and chair

A lot of the stands will be outside, so dress accordingly for the weather

The event is a relaxed affair, so come and go as you please, come for an hour, come for a day its up to you!

Please bring a face covering

Please do not attend if:

You feel unwell.

have COVID or

have COVID symptoms
Whats going on:
Time-restricted events
Saturday 20th November
Guest speaker on Legionella 10:30-11:00
Shooting 10:30 – 12:00
Tower 10:30 – 12:00
Archery 14:00- 15:30
Suffolk Mind `14:00-16:00
Camp food hygiene 15:00-16:00 (Please book here: https://bookwhen.com/suffolktraining)
This course will provide you with information and guidance on how to keep everyone safe when catering on camps. We will discuss:
• common causes and signs of ill health
• awareness of allergies and intolerances
• Food safety hazards
• Food storage, temperature control and cross contamination
• general chat about all things food while away with young people
Sunday 21st November
Shooting 10:30-12:00
Archery 10:30 -12:00
Stalls and bases:
Suffolk Police

Suffolk Mind (Saturday only)

An opportunity to validate your adult training

A chance to do some online mandatory training with guided support

First aid info and a chance to validate 10b

Find out more The brand new #YouShape award

Suffolk Punch info

Inclusion and Diversity drop in

World Scout Jamboree info

International scouting and you

How you can grow using online tools

Health & Safety (Saturday only)

Growing the movement

Governance and Trusteeship (Saturday only)

Duke of Edinburgh award support

Top award help

Quality programme support

Learn some practical skills, backwards cooking, Knife, axe, saw etc (Campfire Circle)

Try your hand at tomahawk throwing

Safeguarding

Crafts

Water activities / Permit Support
There will also be a Café onsite for coffee/teas !
NOTE: It Is recommended you bring a laptop / portable device to help you take part in some of the sessions!
Where are we?
The event is at Hallowtree Campsite. We are down the far field overlooking the river Orwell (it's stunning).
There will be activities dotted around site, such as shooting, archery, climbing, tomahawk throwing, campfire etc. But the main cluster of excitement will be in the Wendy Hut, Raven Hut and in front of the Raven hut.
Sustainability
Please can you bring your own re-useable mug / cup.
We suggest where possible and where comfortable to lift share.
Inclusivity
If you need any reasonable adjustments made please do get in touch and we will be in touch!
We cant wait to see you!
Best wishes
Ollie Smith (On behalf of the programme team)
Pronouns: He/They
Deputy County Commissioner (Programme)
Suffolk Scouts

07887533323
Website Facebook
Twitter: @OllieSmithScout
Registered Charity No. 305682
We prepare young people with skills for life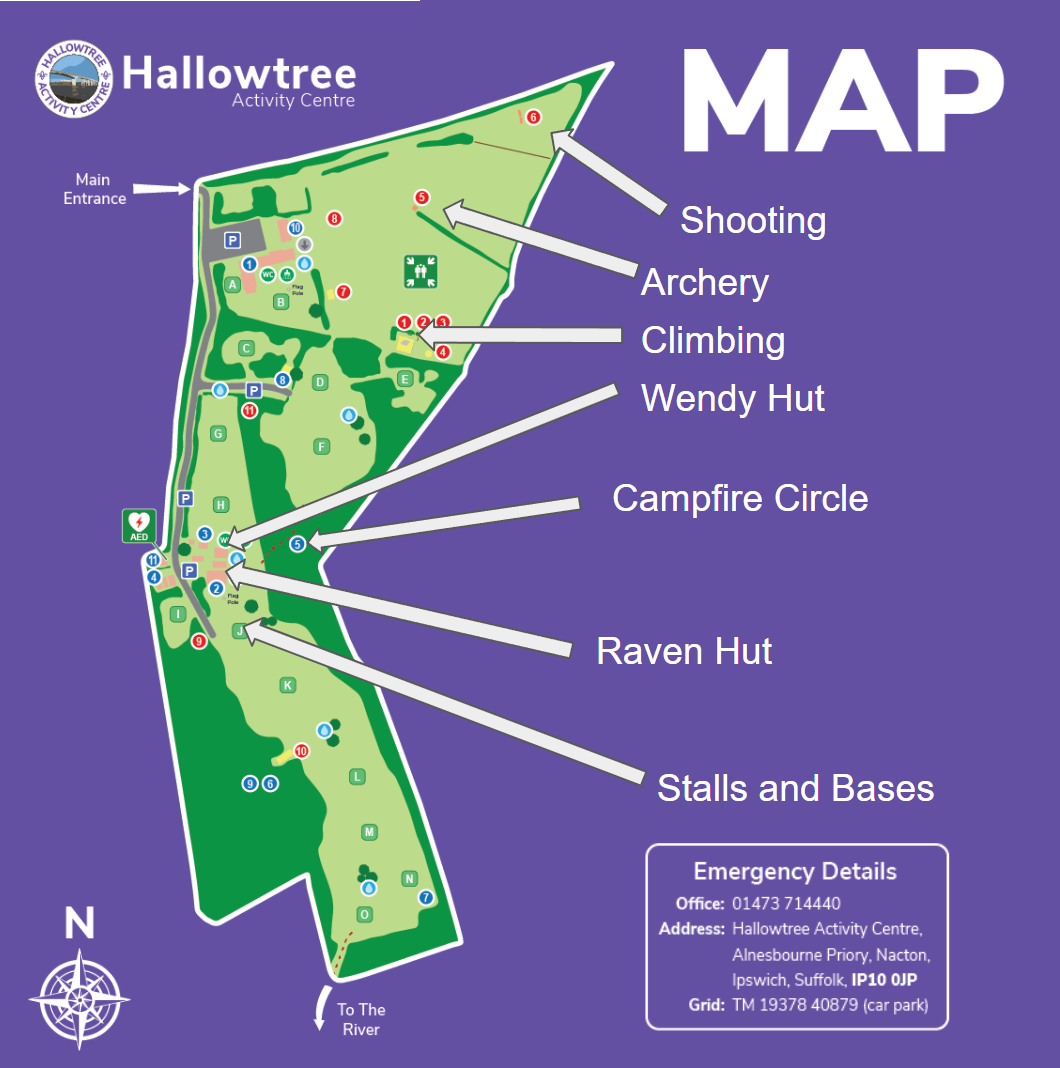 Health & Safety
The Scouts recognises that life is not risk-free, and in its turn Scouting is not risk-free. As Scouts, we endeavour to manage these risks to wellbeing and safety to be as low as is reasonably practicable. Identifying and proportionately managing risk is a skill for life that we wish to kindle, develop and enhance in all of our members.
Please follow all site rules and be mindful of surroundings and weather.
Covid-19
Please follow the Government guidelines regarding COVID-19. Please wear a face covering when in close proximity to others, but will not be required all the times (unless you wanted). We ask that you take a Lateral flow test before you attend Re-energise event. The buildings will be well ventilated as well as the Marquees and party tents.
Please do not attend if:
You feel unwell.

have COVID or

have COVID symptoms or

have been contacted by NHS track and trace because you have had contact with someone with Covid or

any other viral illness
In the event of discovering a fire; sound the closest fire alarm, evacuate the building using your nearest fire exit and proceed to the evacuation point.
On hearing the fire alarm; evacuate the building using your nearest fire exit and proceed to the evacuation point.