Whilst we still have a long way to go before we can fully return to all of the Scouting activities we are used to, there does seem to be a light at the end of the tunnel. The start of the vaccination programme gives us hope for a better year in 2021. Many of us will have been meeting again since coming out of lockdown at the beginning of the month and hopefully we will be able to continue to do this in the New Year.
Support for Specialist Activity Risk Assessments
A reminder that there are specialist activity teams in the County who can support you with activity risk assessments, should the need arise. Those of you with adventurous activity scheme permits will have demonstrated, as part of your permit assessment, the ability to appropriately risk assess the activity- both in the planning stages and dynamically during an activity session. However, if you want to discuss your risk assessment with another activity specialist and you do not have your own contacts, please contact Leigh Foster-Green (This email address is being protected from spambots. You need JavaScript enabled to view it.) who will put you in touch with someone who you can talk to.
Race Round the World
Well done to all the groups who took part in Race Round the World, raising funds for the groups hardest hit and at risk of closure by the Covid crisis. Cubs won the race by raising over £67,000. In total over £200,000 was raised.
Lowestoft Scout Raises Funds for Children in Hospital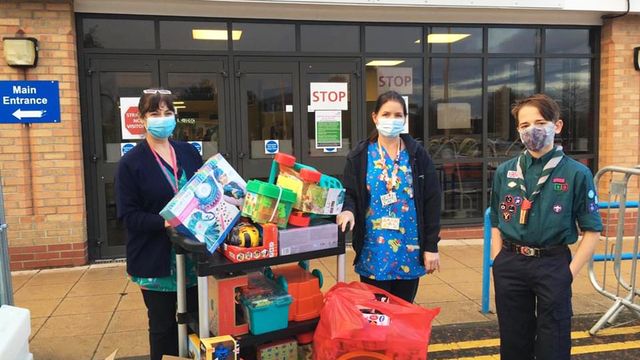 Oscar Cone in Lowestoft raised over £400 to help children who are in hospital over Christmas. This is a fantastic effort and a great example of the true spirit of Scouting.
He went on a spending spree and purchased 60 toys for the children's ward of the James Paget Hospital. Read more about this as reported in the Lowestoft Journal here. (Picture credit - Emma Cone)
Suffolk Community Foundation

Suffolk Community Foundation are looking to raise funds to support their Surviving Winter Appeal. This is a good opportunity to do something to help vulnerable older people and others experiencing deprivation in Suffolk. Any funds you can raise will help people in need within Suffolk.
Please do read more about the campaign here.
Training Update
There will be a range of virtual online training available in the New Year.
· An update for Training Advisors on January 26th – further details to follow.
· An update for current Appointment Advisory Committee members will be on February 27th.
· Skills of Management training will be available February 13th, March 13th, and March 27th
· First Responder (part 1) will also be available in the New Year
You can access further training information on the county website.
Returning to Face to Face Scouting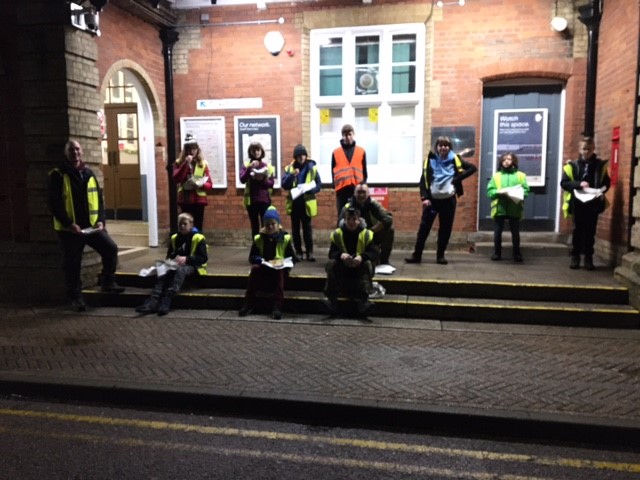 Please let me know your experiences so we can share what is happening around the County.
1st Wetherden & Haughley returned for their first Scout meeting last week with a night hike followed by chips!
Volunteer Stewards needed to support local COVID-19 Vaccination Programme
Essex Partnership University NHS Trust have approached us in Scouting (as a major Volunteer Organisation) as they are setting up Covid vaccination centres across Essex and Suffolk. They would like to recruit adult volunteer stewards to help people get their vaccinations quickly and safely at the centres. This is likely to involve, for example, directing vehicles to the correct parking area, escorting people to the vaccination stations or identifying people who might need some assistance. Local vaccination stations will be open from 8am-8pm seven days a week. Volunteers are asked to commit to individual sessions of four hours plus 15 minutes handover time.
If you are interested in volunteering in your own private capacity (i.e.without any scouting involvement), please email This email address is being protected from spambots. You need JavaScript enabled to view it.. For more information, visit the NHS website https://eput.nhs.uk/vaccine-recruitment. FAQ's & the Volunteer role description are available below.
Footnotes
I hope that even with a very different Christmas this year you enjoy it. And in the words of a song let's hope for 2021 "Things Can Only get Better". One final thought; "the most easily understood language is a smile – even to a stranger", why don't you try it?
Best wishes
Mark Pearson
County Commissioner – Suffolk