Hallowtree is a wooded undulating campsite of approximately 40 acres situated 4 miles from Ipswich. There are three main camping areas with smaller patrol camp areas available. The main field has a picturesque view over the river Orwell.
The site is open throughout the year with a resident warden, John Brown, who will be only too pleased to show you around at a mutually convenient time.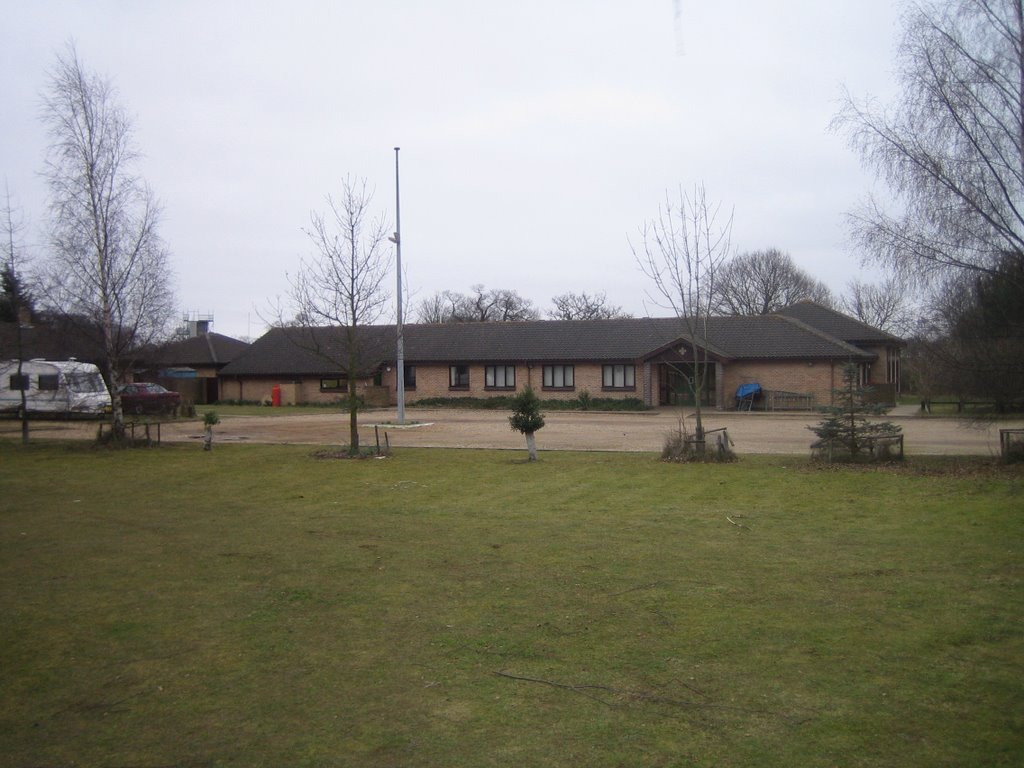 The Facilities include:-
Providore selling souvenirs, sweets etc.; Resident Warden; Two Camp Fire Circles; 40ft/12m climbing & abseiling tower; Human Football; Crate Stacking; Boulder wall; Open air chapel; Large Activity field; Air Rifle range; Archery range; Pioneering equipment; BBQ's for hire.
Main Complex
This complex provides an ideal building for indoor pack holidays. Built in 1990, it offers a modern flexible option. It has two fully fitted kitchens with catering equipment for up to 100 people. The toilets are for use only by the group hiring the building and it advisable to include toilet rolls in your list of provisions. In addition, it has full central heating and all services are included in the hiring charge. Smoke alarms and fire extinguishers are standard.
Pavilion
The Pavilion is an added extension to the main complex with its own set of toilets and shower. Also fitted with central heating, it can be hired either for separate use or as part of the main complex.

Raven Hut
Raven Hut is situated at the top of the main field with a fabulous view of the River Orwell. It consists of a large hall for use for indoor activities or indoor accommodation. It has a large kitchen with an industrial sized gas oven, sink unit, fridge, chest freezer and hot water heater. Equipment is limited so it is advisable that groups provide their own cooking equipment. It has a small room that can be used as a first aid or store room. All gas and electricity is included in the hire charge. A large camping area is available outside Raven Hut.

Wendy Hut

Wendy Hut (7m x 4m) is adjacent to a toilet and shower block, near the campfire circle, close to parking and is a useful shelter for campsite H. It has a kitchen with electric oven, gas hob, microwave and fridge freezer. Comes equiped with 30 chairs and 6 Tables. Wendy Hut also has a ramp for wheel chair access

Main Site
The site consists of two large fields, one medium sized field and three smaller camping areas, called Aspen, Scarlet Oak and Rowan. The main field is the largest and overlooks the river Orwell. It has two water taps as well as one attached to the outside of Raven Hut. There is a footpath at the bottom comer of the field that gives access to the river Orwell. Rabbit Hill is the other large field which is situated next to the Activity field. There is plenty of camping area and a water tap is situated in the middle of the field. The rectangle field is a medium sized field which is large enough for two reasonable sized Groups or one large one. Aspen, Scarlet Oak and Rowan camping areas have been developed to give privacy from the rest of the site as they are surrounded by trees and bushes.
Contact
Hallowtree's Website - http://hallowtree.co.uk/ for contact details and booking information.